Medic Grow TSC-2 LED Grow Light Controller, Wireless & Wired Connection, Tunable Spectrum Control, GLC Timmer, Supports 3 in 1 Sensor
Medic Grow TSC-2 LED Grow Light Controller, Wireless & Wired Connection, Tunable Spectrum Control, GLC Timmer, Supports 3 in 1 Sensor
Black Friday Day
Buy

Medic Grow Lighting Controller

at

$371.07 per light

NOW

with Code:

MGC7

, saving extra

$27.93 per light

.
Sale Will End In:
Continental US Order:
Discreet
Free Shipping, No Tax, 3-7 Days FedEX Delivery from US Warehouse
Delivery Items Confidentially
15-Day Return & Replacement
Description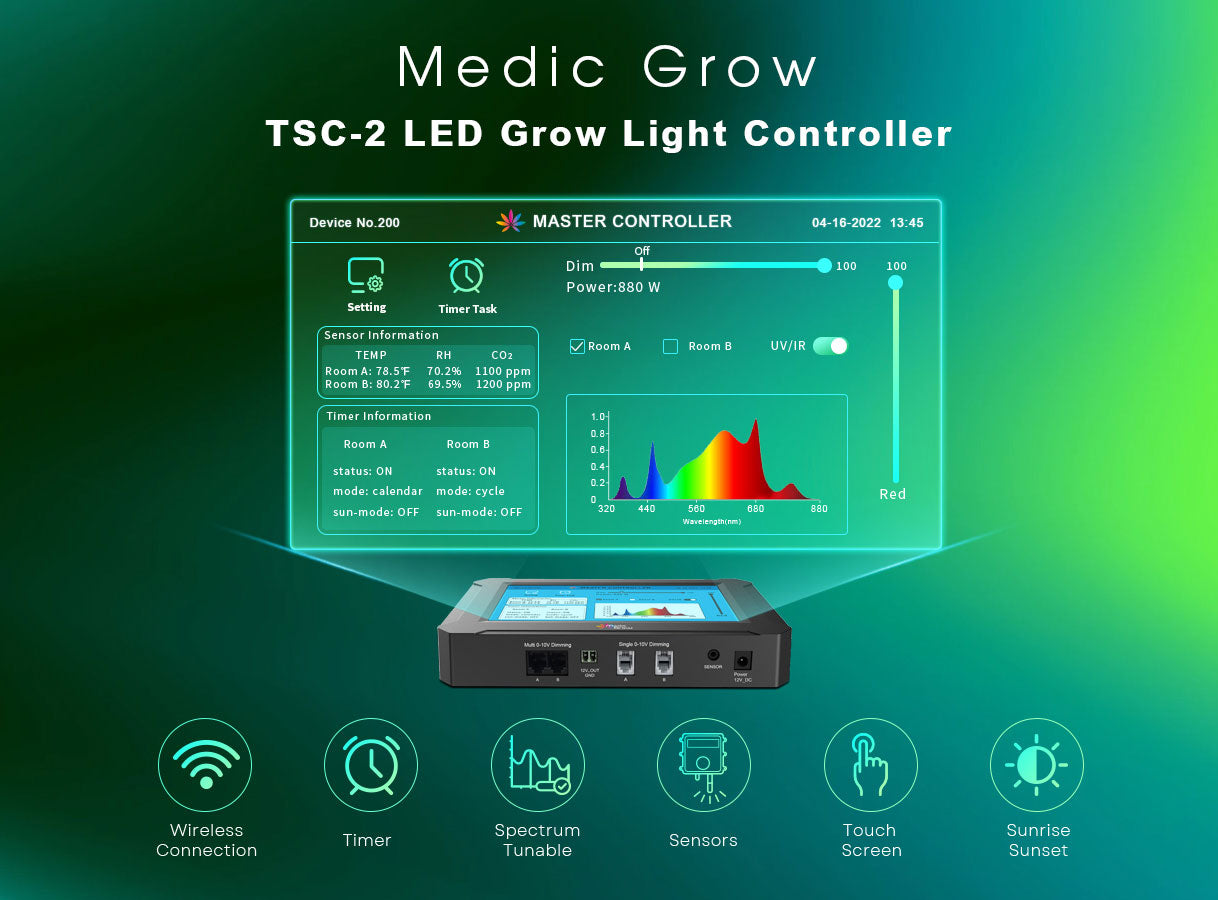 It is the most innovative LED Grow Light Controller in the world. You can set up your grow settings easily by tapping the screen in seconds. It's built-in Dimmer, 3 modes Timer, Sun-Rise Sun-Set mode and online-upgrade feature.
TSC-2 Master Controller supports both WIRELESS and 0-10V Wired connection, so it is compatible not only with Medic Grow's Light fixtures, but also with most of the LED Grow Light Fixtures in the markets by 0-10V dimming .
Our Spectrum-Y-Wireless is the perfect match of TSC-2 Controller. In this controller, features like Tunable Spectrums, Independent Timer for UV/IR Add-On features are exclusively designed for the Spectrum-Y-Wireless. Their connection is fully automatic, growers just need to turn on the controller and the lights , all will be connected and grouped well in a few minutes, no need to input any password or pin code. 
Wireless Connection is enabled by WIFI MESH technology, it's secured and stable. It can detect and control the lights Max 600ft away from the TSC-2 controller. This feature can control each light precisely without installing new wiring.     
Key Features:
Support controlling up to 200Pcs Spectrum Y Wireless by wireless;
Support controlling up to 70Pcs Medic Grow LED Grow Lights by wire;
Suitable for 1-2 grow rooms;
Wireless or wire 0-10V dimming controlment;
Switch, dim, spectrum adjust from central unit;
Support monitoring CO2, temperature and humidity with 3 in 1 Sensor ;
Support GLT timer for better growing & power saving except for calendar and cycle timer;
Simulates sunrise and sunset setting, which range from 5-30 minutes;
LCD touch screen for better user's experience of smart and easy operation.
Auto dim to 70% for preset temperature;
Auto shutdown for preset over-temperature protection;
12V Output for other external devices;
Support system updating by Wi-Fi;
Protected against short circuit.
TSC-2 Introduction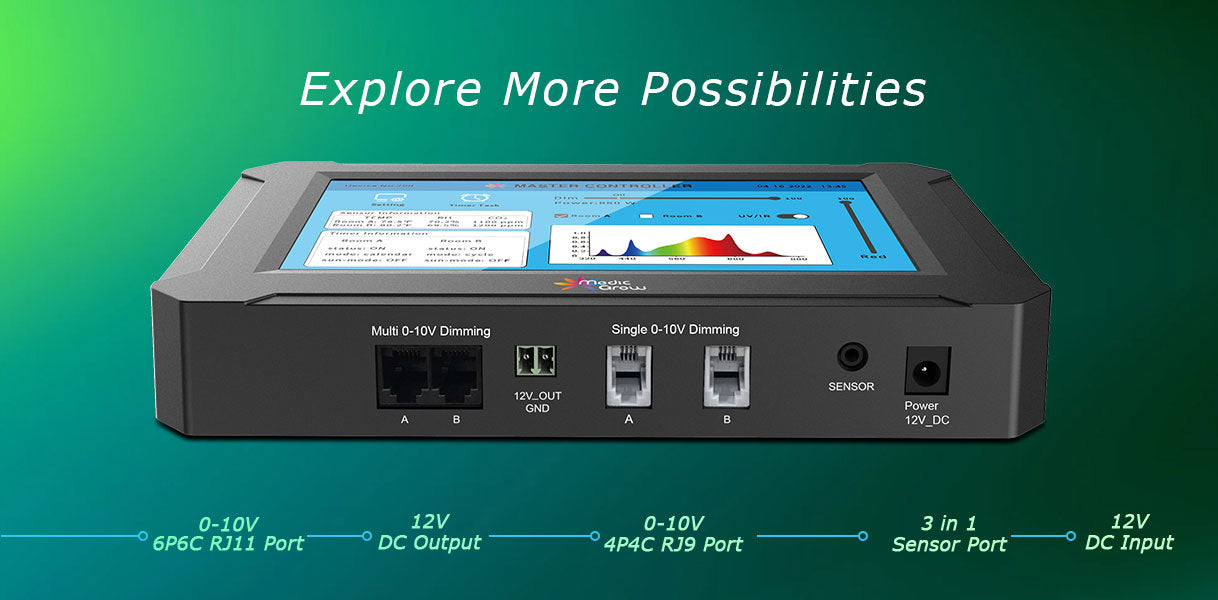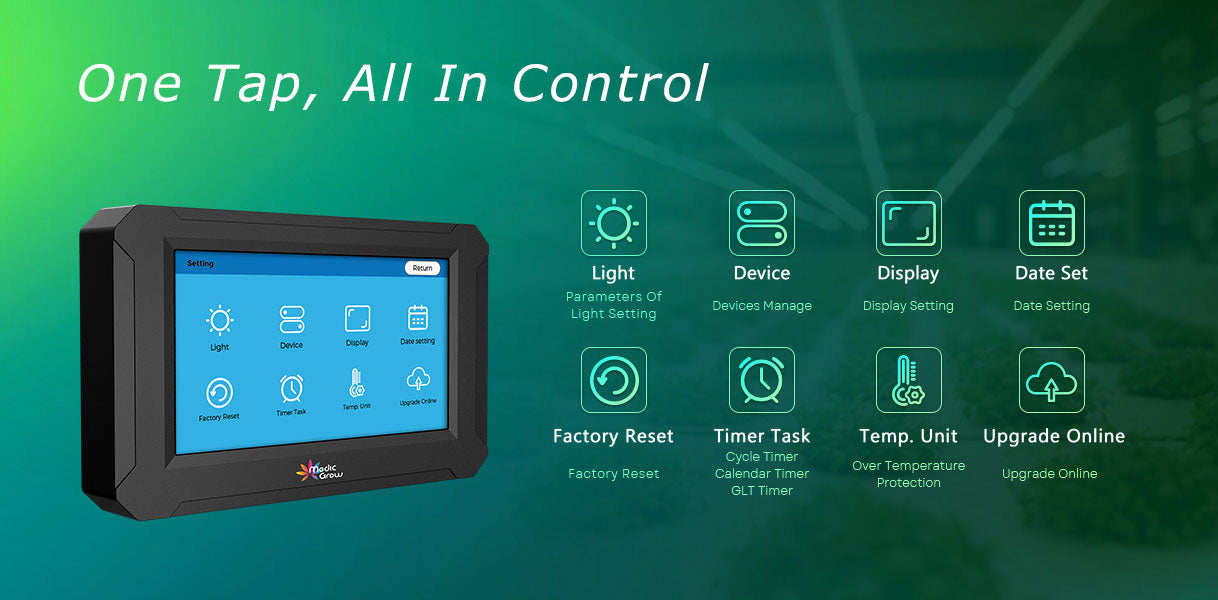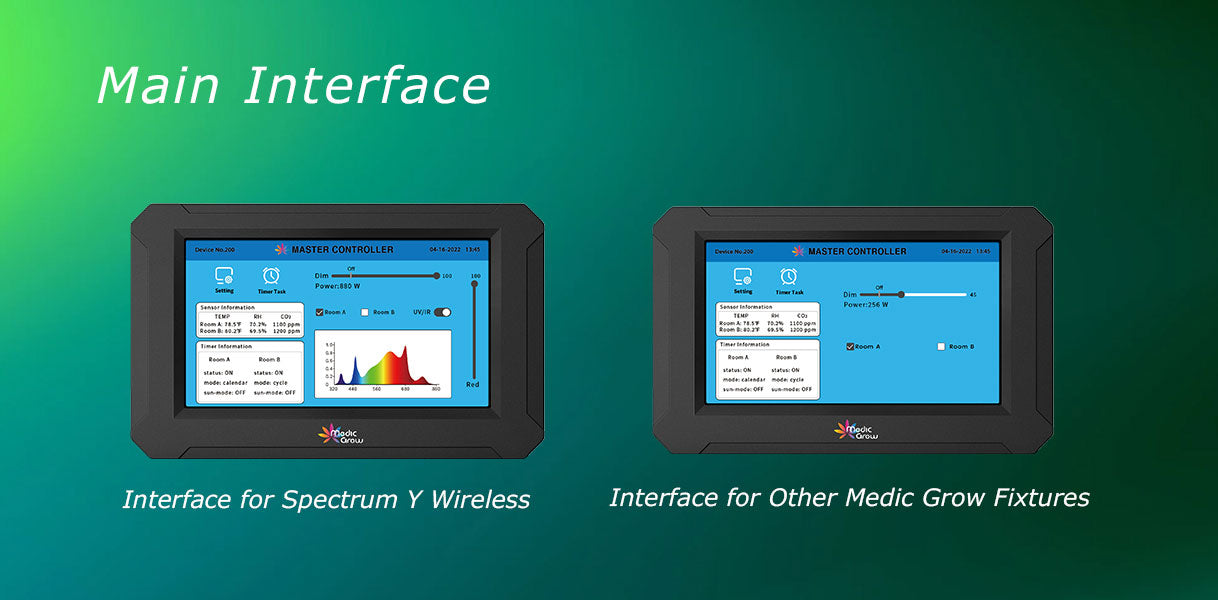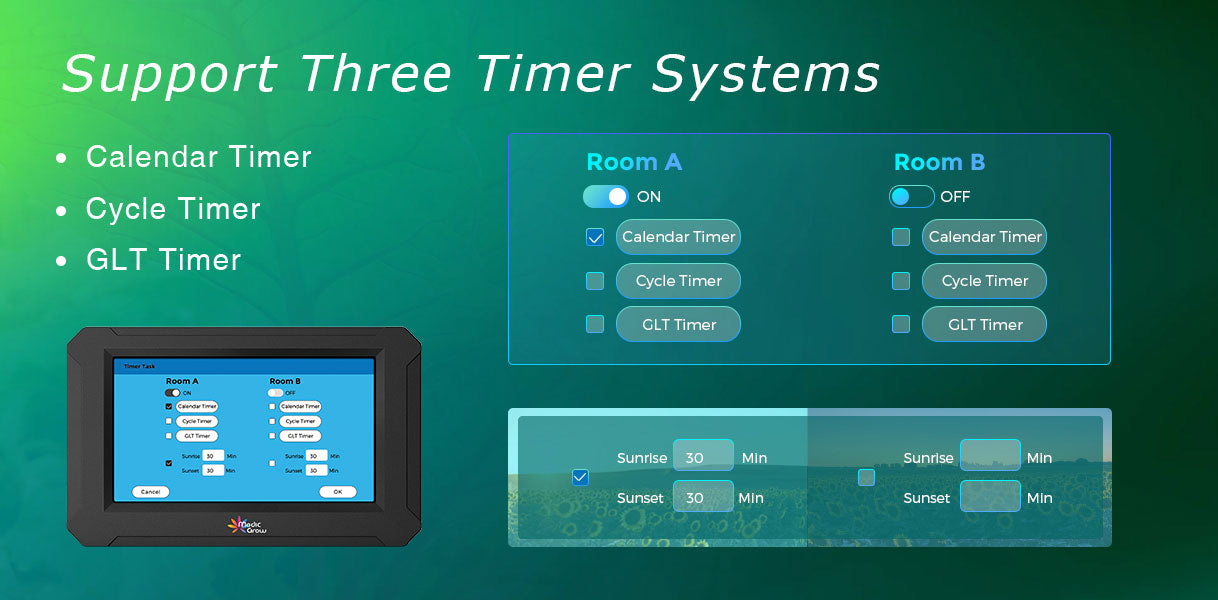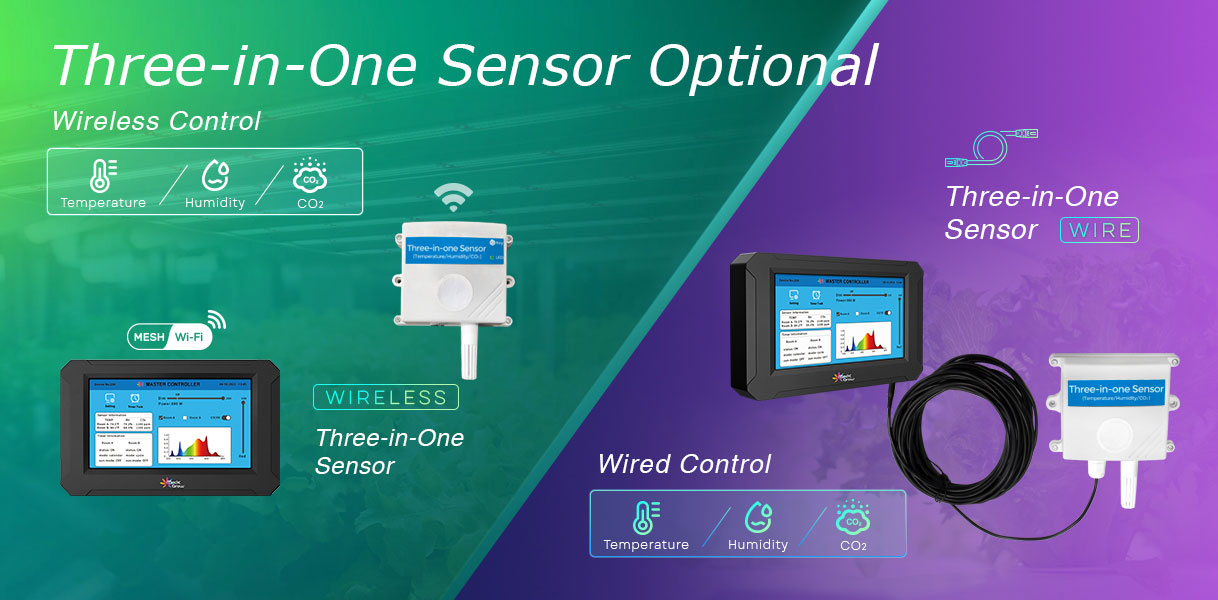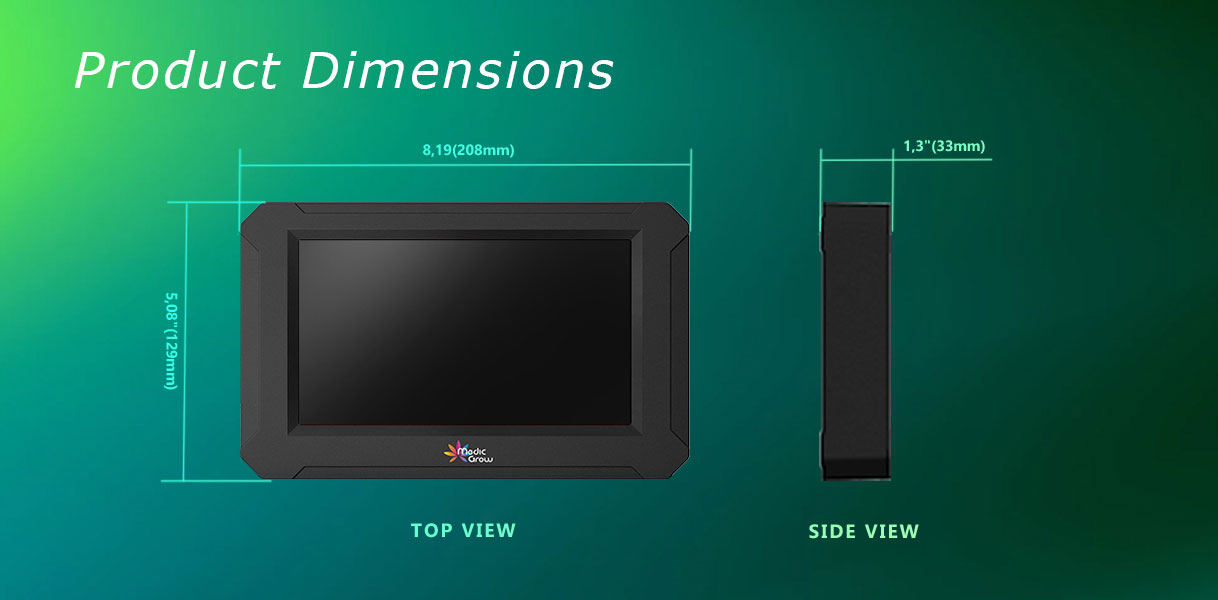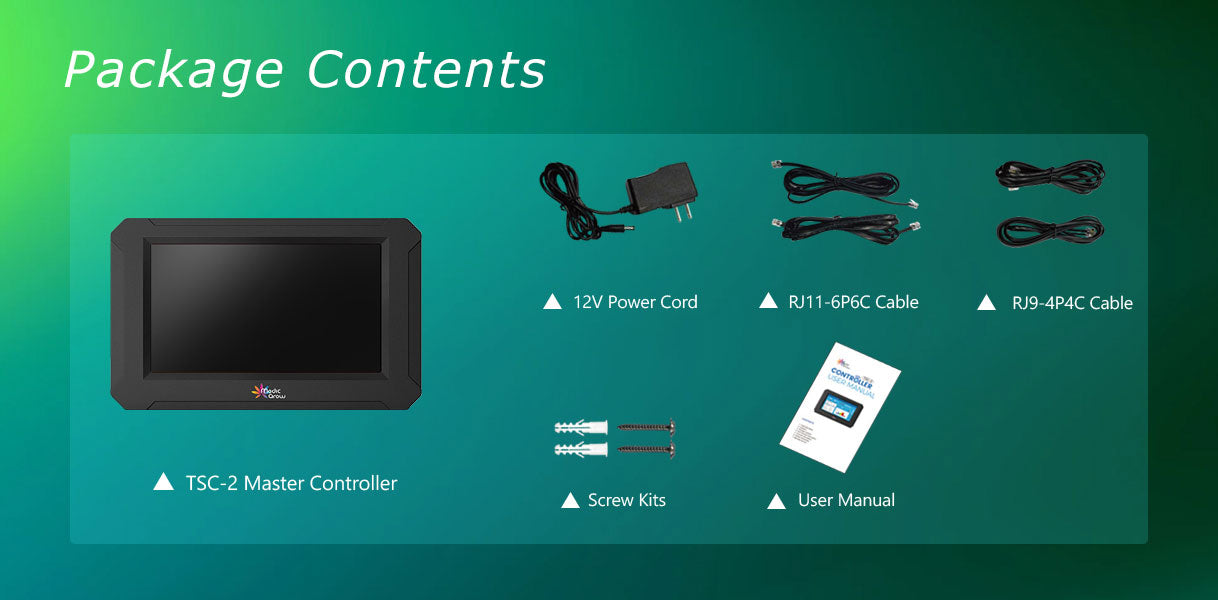 Compatible Function

Items
Spectrum Y Wireless
Other Medic Grow fixtures
Connection
Wireless/Wire
Wire
Cable
Wireless/RJ11 6P6C Cable
RJ9 4P4C Cable
Room Setting
Seperately A/B Room Setting
Dimming
0-100% Power Dimming
Spectrum
Switch between V1,F1,VS,FS mode
V1 mode
Red Light Power Control
Range from 50%-100%
Not Support
Sensor Information Display
Show temperature, humidity & CO2 concentrations
Timmer Setting
Calendar Timer, Cycle Timer, GLT Timer
Sunrise& Sunset Setting
Range from 5 to 30 minutes
Max Power Output Setting
Support
Auto Shutdown Breakpoint Setting
Support
Display Brightness & Time Setting
Support
Controller Date Setting
Support
Auto Dimming Temperature Preset
Support
Auto Shutdown over-temperature Preset
Support
System Updating
Support
Specification
| Model | TSC-2 |
| --- | --- |
| Installation method | Wall Hanging |
| Screen | 7 inch TFT LCD display |
| Dimension(mm) | 8.07'' x 5.1" x 1.24"/L-205 x W-129 x H-31.5 (mm) |
| Net Weight | 0.465 kg 1.02 lb |
| Input voltage of controller | DC 12 V |
| Input voltage of adaptor | 100-240 V AC, 50/60 Hz |
| AC Current | 1 A |
| Material of shell | PC+ABS Etched black |
| Fire rating of shell | 94 - V1 |
| Sunrise sunset | YES |
| Overheating protection | YES |
| Connection Method | Wired connection or wireless connection |
Operation Guide
Medic Grow TSC-2 Light Controller Manual
Medic Grow Fold 8 LED Grow Light for Indoor Plants
Providing 4 x 4 ft for both vegetative and flower, our Fold 8 LED grow light for indoor plants supports all stages of plants' growing lifecycle, whether used in a tent for personal growers or chained together with up to 100 pcs fixtures in a large commercial operation.

This indoor plants grow light has the popular design of 8 lighting bars focused on distributing more light as even as possible across the plant canopy. Plus, this LED grow light offers V1 fully programmable spectrum to adapt to each phase of the plant cycle. High efficacy of 2.7 µmol/j and up to 720 wattage power consumption contribute to high efficiency growing operation.

The PPFD for this light is also quite impressive, 1208 µmol/s at 12" distance and 930 µmol/s at 24". That's enough to boost your plants' yield according to a 20-40 mole of light per day requirement. Besides that, it is dimmable from 100% to 40% so you may easily adjust the intensity of the light for the veg and flowering phases.

Our latest LED grow lights for indoor plants suit many kinds of growing operations. If you're looking for full-spectrum LED lights to use indoors or for commercial growing, this is one of the most cost-effective and efficient products on the market.
Features:
4X4 Coverage

Full Spectrum - from seed to harvest.

High PPF - 1944μmol/s

Daisy Chainable - up to 75 lights

Dimmable - OFF- 40%-60%-80%-100%

180°Foldable Easy Installation - plug & play

True 720w Power Consumption
Tsc2
Been using couple weeks now paired with 2 spectrum y's.... couldn't be easier. Connection was automatic, features are easy to use and learn. Sunset/sunrise options along with different cycle options built in...only thing I'd like to see in the future if possible would be a multi timer setting for uv/ir, so I could have it come on for small intervals over the 12-hour cycle if I wanted to.
Light
Controller got here late. The light, neither of the uv bars worked but I talked to customer service and they said they are sending 2 of them out to me. Had a light I've used for 2 years before thisbone and it had been great.
Love it!!!
I have this it's really nice. I love it!!! It arrived completely broken but Medic Grow replaced it for me no questions asked. Medic Grow are the best. I use this all the time so should you. It was better than I expected. It exceeded my expectations which were very high. It's a neat gadget. Buy one you won't regret it (you can thank me later!). I love this thing! I use it all the time!! I have 2 already I'm going to buy another 2. I can't wait. Thanks Medic Grow you're the best. The people at Medic Grow are incredible they are so awesome! Two thumbs up from me!!! Now I'm going to use this. I just thought you should know. Did I also tell you I love it? I do, it's amazing. Get one!!! 5 stars would buy again. Nicely packaged too. My only complaint is it's so good I can't put it down. Bye!!
Very Cool design
handy and smart garget . Bought it together with Y WIRELESS . The touch screen is nice.