Medic Grow Spectrum-Y Plus Wireless Samsung LM301H LED Grow Light - High PPFD, Covers 4x4 5x5, Wireless & Wired Connection, Stepless Wireless / 0-10V Dimming, Tunable Full Spectrum, UV+IR Bar, 880W
Medic Grow Spectrum-Y Plus Wireless Samsung LM301H LED Grow Light - High PPFD, Covers 4x4 5x5, Wireless & Wired Connection, Stepless Wireless / 0-10V Dimming, Tunable Full Spectrum, UV+IR Bar, 880W
Continental US Order:
Discreet
Free Shipping, No Tax, 3-7 Days FedEX Delivery from US Warehouse
15-Day Return & Replacement
Description
Here comes the new enhanced version of DLC certified Spectrum-Y Plus(Wireless Samsung) from Medic Grow. It is committed to bringing more convenience and more powerful features to both commercial and home growers. It's the Best Choice for Large Scale Commercial Growth with higher level pursuit.
Based on our most Cutting-Edge Spectrum-Y-Wireless, we launched enhanced version with Samsung diodes in order to meet grower's higher level demands. Samsung unrivaled in higher quality, they enable growers to cultivate more plants while saving more energy.
The old version Spectrum Y can not dim without working with Spectrum X or external controller. Now we add a stepless dimming knob to it. The most exciting update is, the new Spectrum Y Wireless supports secured and stable wireless connection to our TSC-2 Master Controller and auto-grouping up to 200 units. By working with our own designed touch-screen controller, the Spectrum-Y Plus empowers the grower to choose the right spectrum for their own plants, as we all know, different grow cycle or different strains needs different spectrums.
With a proper combination of Samsung white chips and Osram red chips, the enhanced version of Spectrum Y(Wireless Samsung)'s efficacy is up to 2.9 µmol/J, PPF 2260 µmol/s. High output of 760W+UV/IR makes it possible to provide high quality light to meet more needs. And it achieved a marvelous performance in 4*4 and 5*5 area from our testing.
Since Spectrum-Y Plus applied the design of 8 lighting bars, the fixture gives out the light plants need as even as possible . These foldable bars and UV-IR Add-On make the fixture easily installed. Widely used in indoor commercial grow facilities.
Spectrum Y(Wireless Samsung) Light Features:
DLC certified for energy rebate, save your budget.
Little Counterclockwise Rotation for Auto Connection by MESH Wi-Fi;

RJ Signal Cable 

Daisy Chainable - up to 200Pcs lights by wireless & 140Pcs by wire;
Wattage Dimmable Separately;
Stepless dimming.
Higher Output Spectrum Tunable (Default is F1/FS, more than V1, F1, VS, FS with TSC-2 controller/Spectrum X);
Enhanced version with Samsung&Osram LEDs, 2.9 µmol/J efficacy and 2260 µmol/s PPF;
Optional UV+IR enhanced bar for advanced quality output;
8 Bar 5X5 feet Coverage;
Default voltage of 110-277V, and 347-480V is customizable
Suggest to use together with our TSC-2 controller or X(Though Compatible with TrolMaster System+Adaptor LMA-14).
Wireless group control, Sunrise&Sunset and Timer functions by using with TSC-2 controller.
Independent control of UV/IR.
Multiple Signal transmission channels ensure the stability of connections.
Perfect thermal management and excellent IP65 waterproof design.
Ready to use: includes all lighting accessories, just unfold and hang it up;.
Damper design for easier installation. Easy to hold still at any angles.
High Efficacy with SAMSUNG and OSRAN Diode
Spectrum-Y Plus Light Interface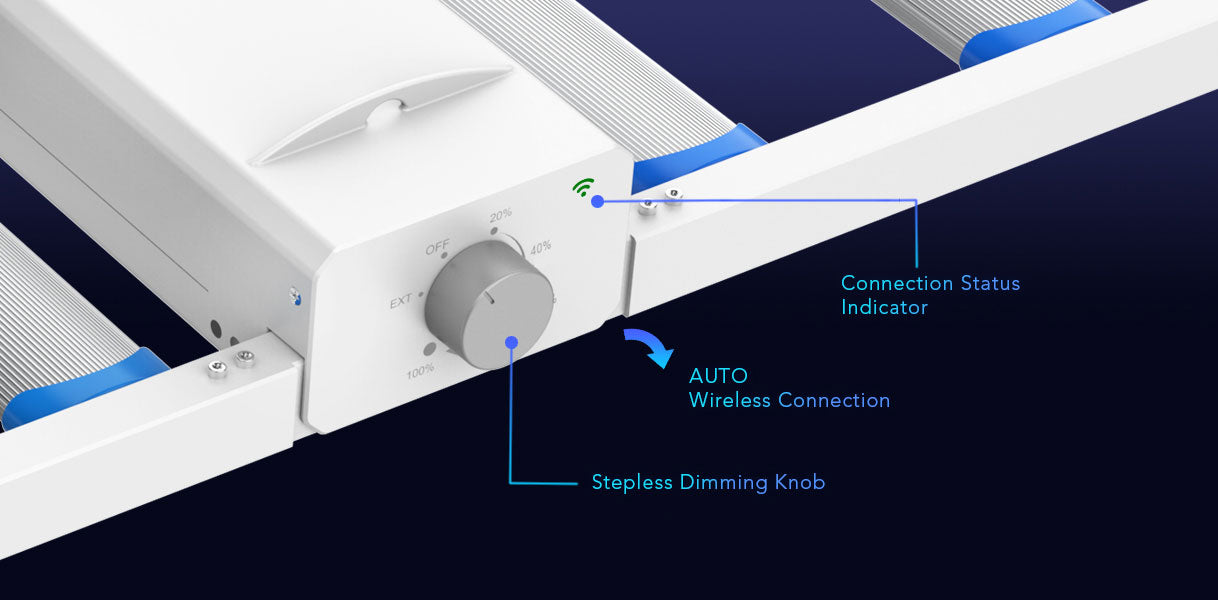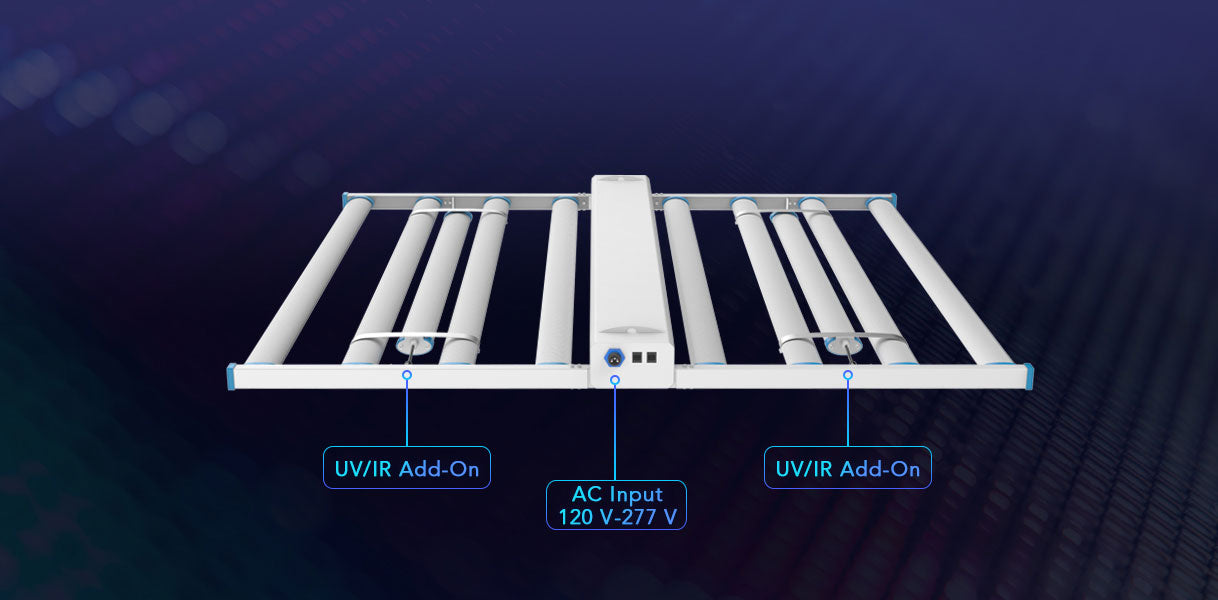 DLC certified for energy rebate.

Spectrum-Y  Plus 3 Ways

RJ Signal Cable 

Daisy Chain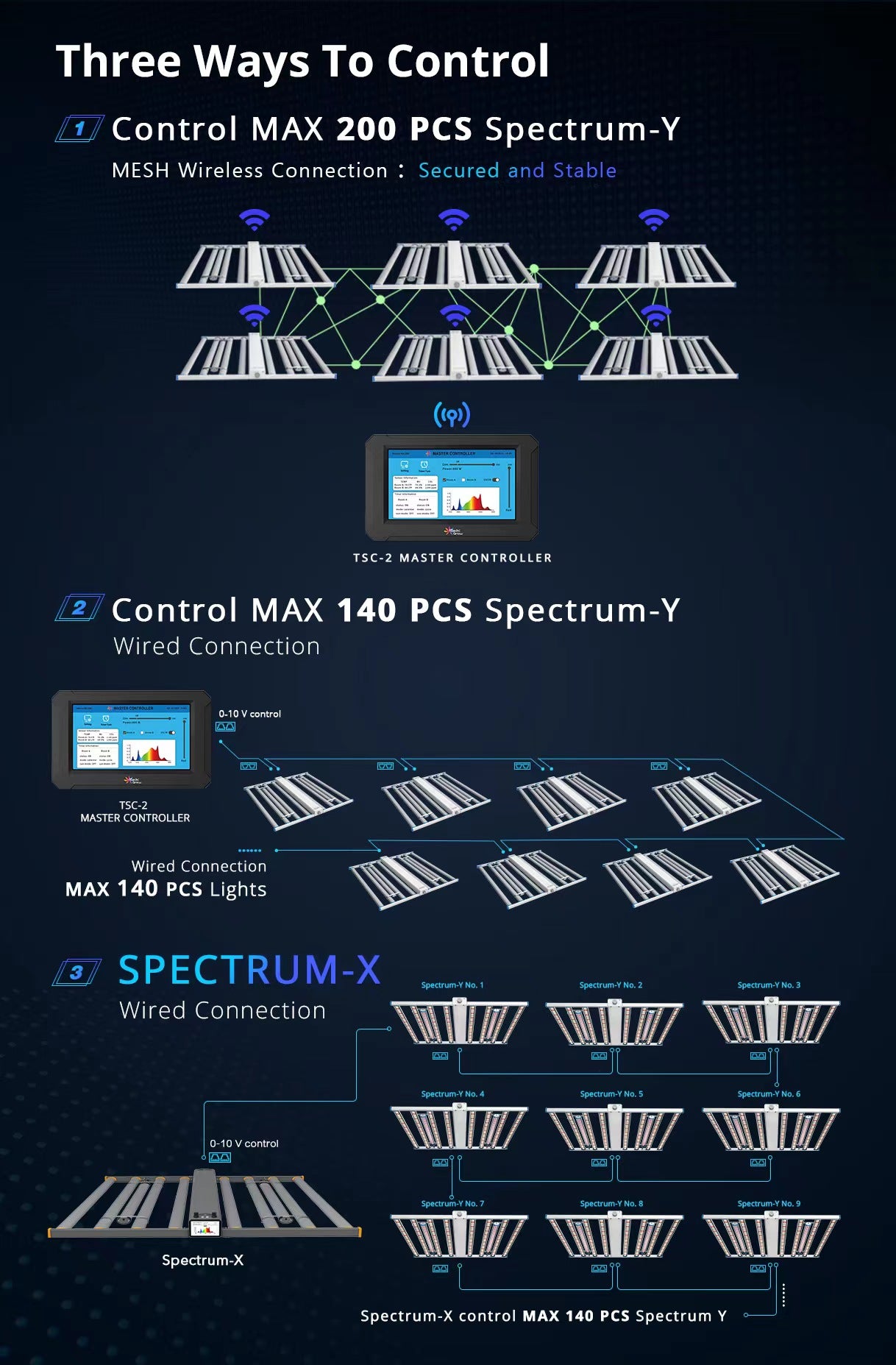 Spectrum-Y Plus LED Grow Light with Optional Detachable UV+IR Bar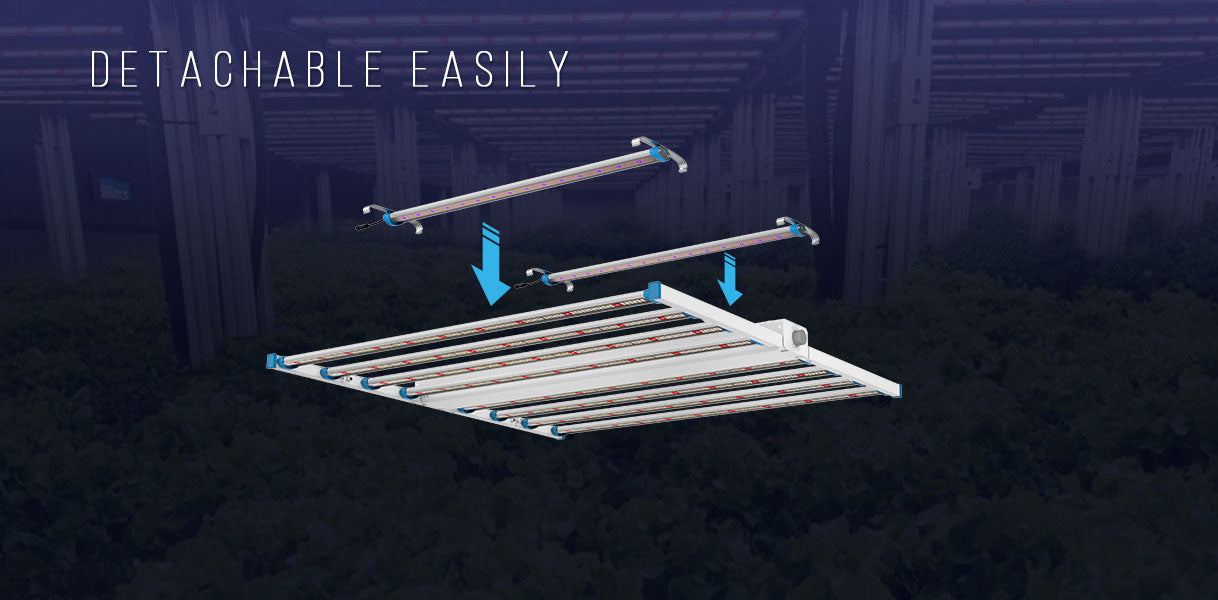 Spectrum-Y Plus Wireless LED Grow Light with UV+IR Bar Light Effect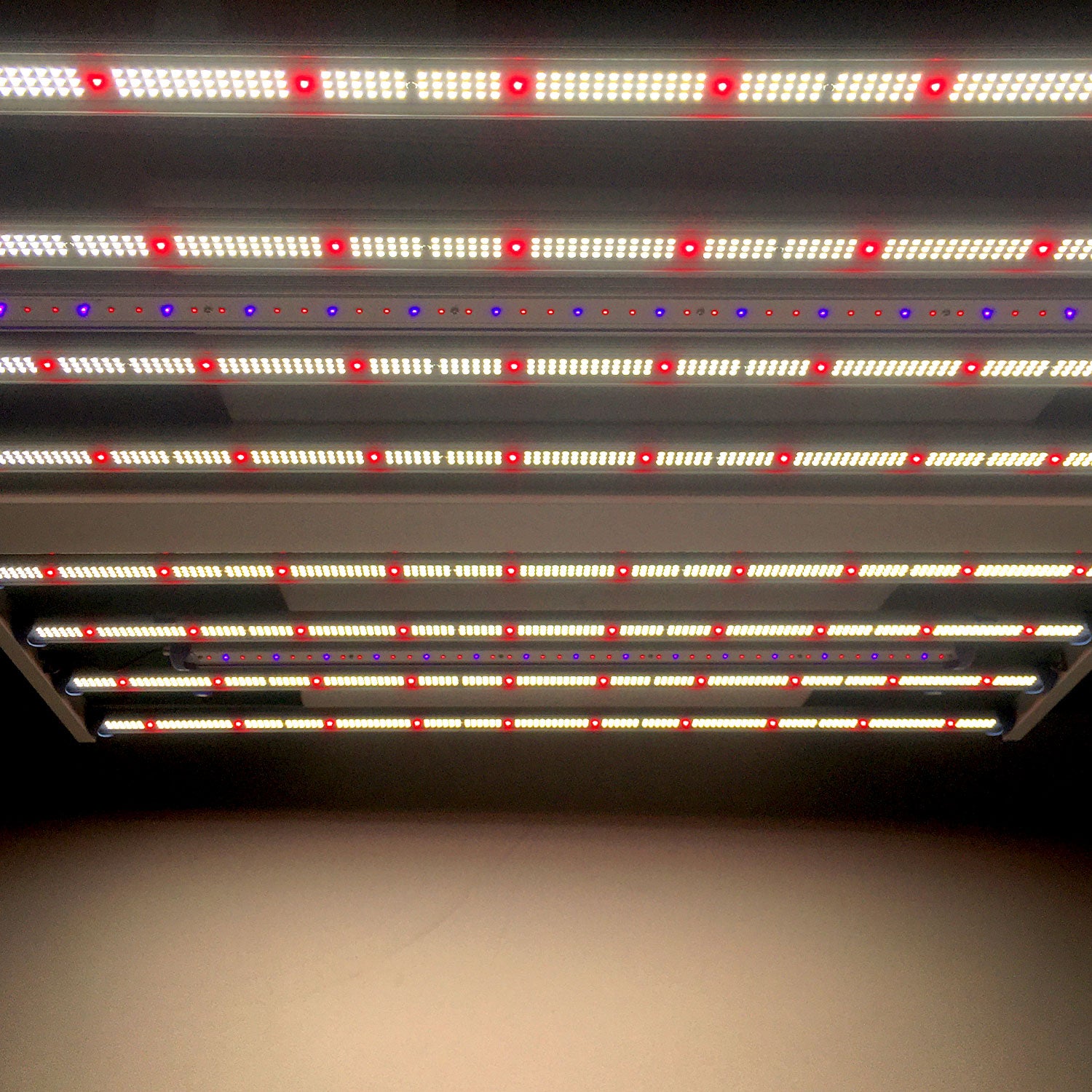 Tunable Full Spectrum
The default spectrum is F1/FS when working alone. Supports 4 spectrums tunable(V1, F1, VS, FS) when connecting with Spectrum X and TSC-2 Controller. The VS and FS mode are working under the UV + IR Bars are installed.
The Full spectrum design covers each critical phase of growth from vegetative to flowering. The spectrum tuning capability allows growers to experiment with spectrum recipies.
DIY spectrum for differerent growing stages, plants do not need to be moved to another rooms.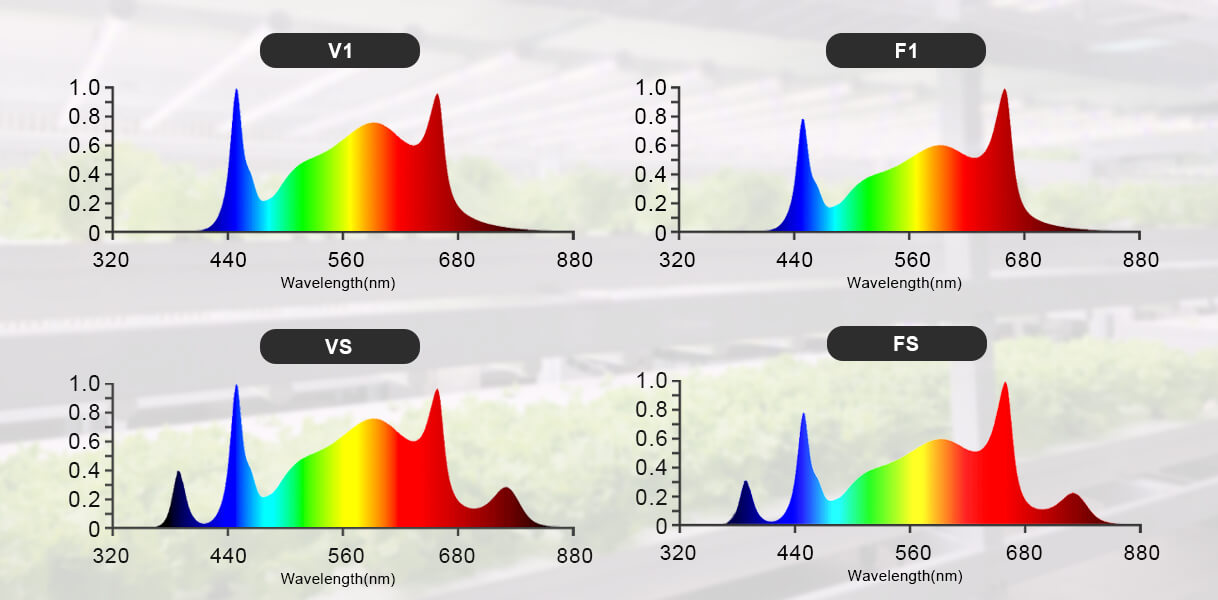 PPFD Distribution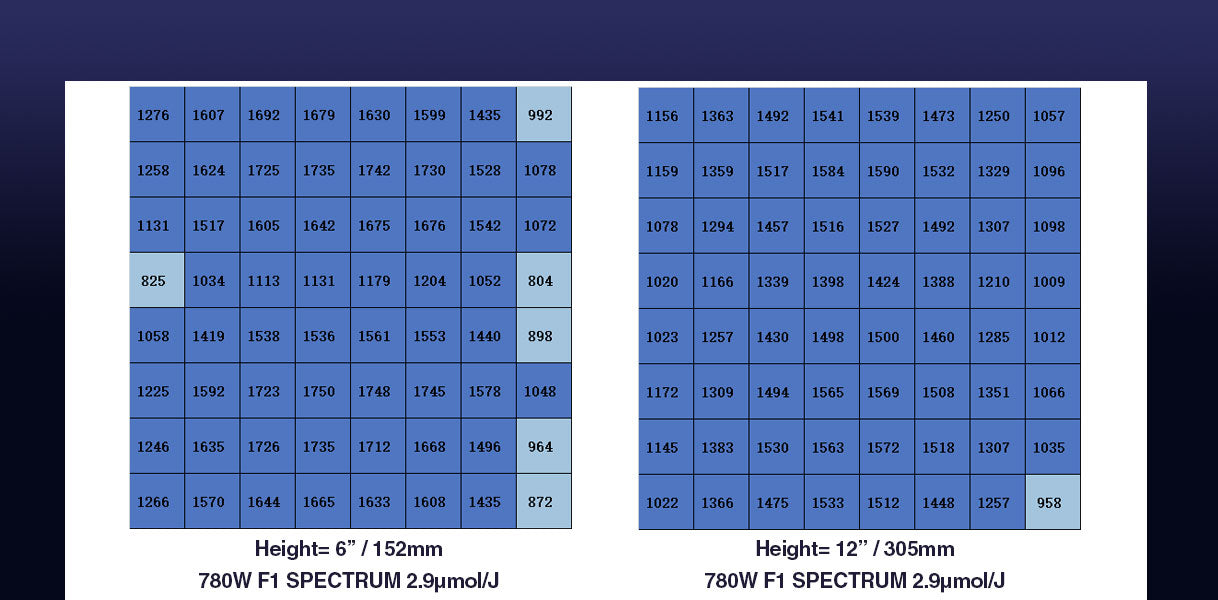 Spectrum-Y Plus wings can be hold at any angle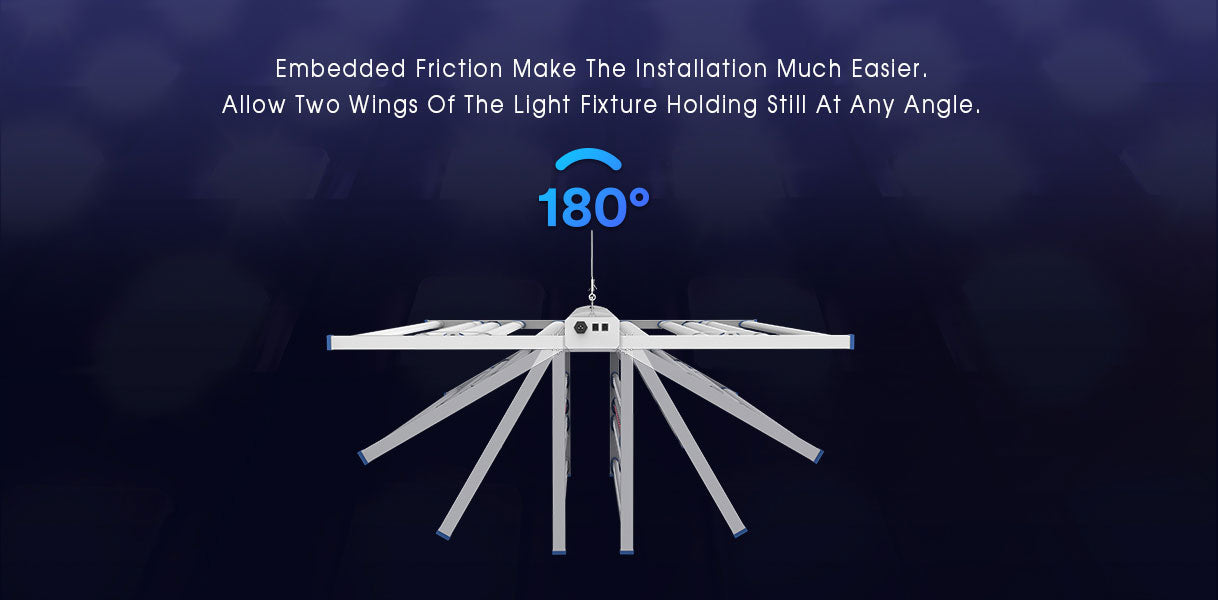 Dimension
What is in the box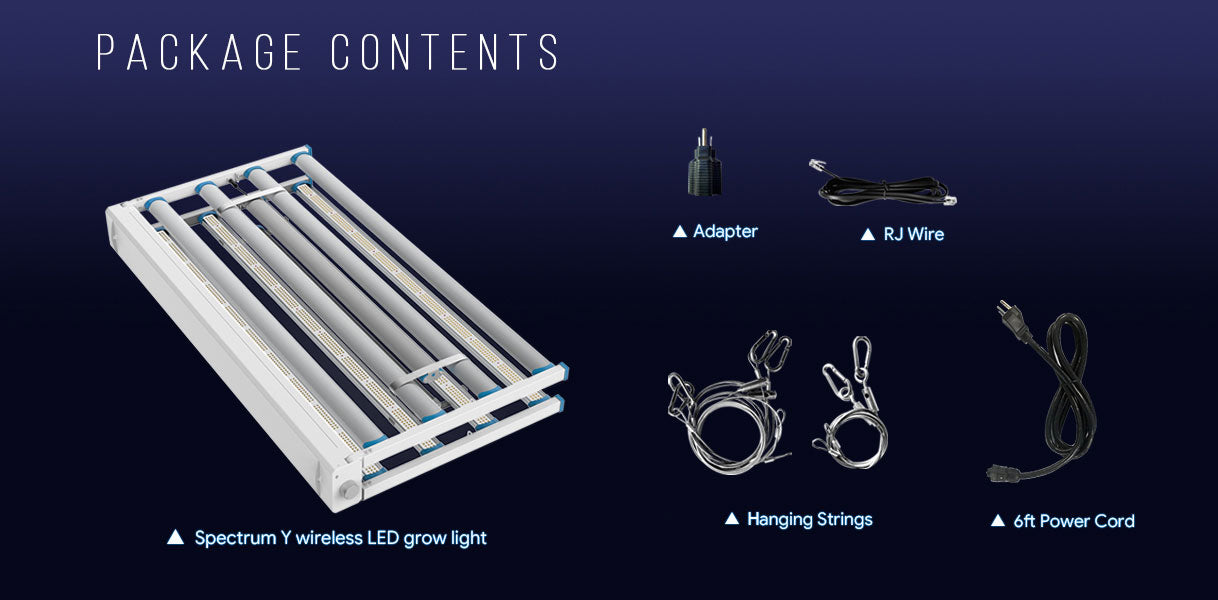 Specification
Spectrum-Y Plus
Spectrum-Y Plus (With 2x UV&IR Bars-100 Watt)
Spectrum
V1, F1
V1, F1,VS, FS
PPF(light output)
2260 μmol/s
2452 μmol/s
Wattage
780 Watts
880 Watt
Efficacy
2.9 μmol/J @277 AC
2.8 μmol/J @277 AC
Coverage

4x4 Feet / 

5x5 Feet
Connection

200Pcs Light with TSC-2 Controller By Wireless

140Pcs Light with TSC-2 Controller By Wire

70Pcs Light with Spectrum X By Wire

Fixture Dimensions
44.52'' x 44.88" x 2.76"
AC Input Voltage

Default: 110-277V AC, 50/60Hz

Customizable: 347-480V AC,50/60Hz

Max Operating Temperature
95°F / 35°C
Mounting Height
≥ 12'' (30cm)Above Canopy
Thermal Management
Passive
Dimming
Wireless / 0-10V
Gross Weight
13.7KG/PC 30.2lbs
14.7KG/PC 32.4lbs
Life Span
>50,000hours
Warranty
5-Year Warranty | 1-Year Warranty for UV-IR Addon
ETL Control No.
5002416
DLC Model No
Operation Guide
Medic Grow Spectrum-Y Plus Wireless Samsung LED Light User Manual
Medic Grow Fold 8 LED Grow Light for Indoor Plants
Providing 4 x 4 ft for both vegetative and flower, our Fold 8 LED grow light for indoor plants supports all stages of plants' growing lifecycle, whether used in a tent for personal growers or chained together with up to 100 pcs fixtures in a large commercial operation.

This indoor plants grow light has the popular design of 8 lighting bars focused on distributing more light as even as possible across the plant canopy. Plus, this LED grow light offers V1 fully programmable spectrum to adapt to each phase of the plant cycle. High efficacy of 2.7 µmol/j and up to 720 wattage power consumption contribute to high efficiency growing operation.

The PPFD for this light is also quite impressive, 1208 µmol/s at 12" distance and 930 µmol/s at 24". That's enough to boost your plants' yield according to a 20-40 mole of light per day requirement. Besides that, it is dimmable from 100% to 40% so you may easily adjust the intensity of the light for the veg and flowering phases.

Our latest LED grow lights for indoor plants suit many kinds of growing operations. If you're looking for full-spectrum LED lights to use indoors or for commercial growing, this is one of the most cost-effective and efficient products on the market.
Features:
4X4 Coverage

Full Spectrum - from seed to harvest.

High PPF - 1944μmol/s

Daisy Chainable - up to 75 lights

Dimmable - OFF- 40%-60%-80%-100%

180°Foldable Easy Installation - plug & play

True 720w Power Consumption