Medic Grow Smart 8 Full Spectrum LED Grow Light - 760w, High PPFD, Tunable Spectrum,Built-in Timer, Sunrise / Sunset, Onboard Dimming, AC 110-277V
$589.00
$629.00
saving
$40.00
Medic Grow Smart 8 Full Spectrum LED Grow Light - 760w, High PPFD, Tunable Spectrum,Built-in Timer, Sunrise / Sunset, Onboard Dimming, AC 110-277V
$589.00
$629.00
saving
$40.00
Continental US Order:
Discreet
Free Shipping, No Tax, 3-7 Days FedEX Delivery from US Warehouse
15-Day Return & Replacement
Description
Smart -8 Medic Grow Full Spectrum 760W LED Grow Lights for Indoor Plants
Be smart about your choice! Meet the foldable Smart 8 that is designed specifically for high PPFD cultivation practices in growing.

Smart 8 760 watt is built using high quality Sosen drivers and top bin LEDs from Osram generating a full-spectrum light source ideal for veg and flowering cycles. It covers each phase of growth from vegetative to flowering and casts an area up to 5x5 in flower. Producing outstanding PPF of 2136 μmol/s and a photon efficacy of 2.8 μmol/J, it can also deliver the entire spectrum of light evenly to your plants, giving them exactly what they want to grow big and fast.

The onboard easy-to-read LCD display allows you quickly and easily to check your timing settings, power, dimming, spectrum, PPF and more. There are two built-in knobs above the screen. The right one allows you to easily dim the light from 100% down to 80%, 60% and 40% intensity without the need for any external controllers, while the other is to schedule time for your plants at 6/12/14/16/18 hours. The Bloom button sits between the two knobs, giving you the convenience of switching the spectrum from vegetative (V1) to flowering (F1).

For commercial growers, the Smart 8 can be externally daisy chained with a medic grow lighting controller featuring light timing, dimming (1% increments), temperature control for up to 75 fixtures. Each light has a general life expectancy of 50,000 hrs and a 5-year long warranty period, thus, you will get full assurance from us about the durability of the lights.

Features and Benefits:

Outstanding efficiency;
Full-cycle growing spectrum;;
760Watts, 2136 μmol/s PPF & 2.8 μmol/J @277 AC;
Enhanced 660nm red encourages blooming and fruit;
Even PAR Distribution that Covers 4' x 4' & 5' x 5' grow tents;
Spectrum Switchable for Veg. & Flower;
built-in timer, support sunrise & sunset;
Instant Current on LCD display;
Onboard dimming function;
Fanless design for heat dissipation;
Low energy & no heat output;
Daisy chain function;
Plug and play.
Default voltage of 110-277V, and 347-480V is customizable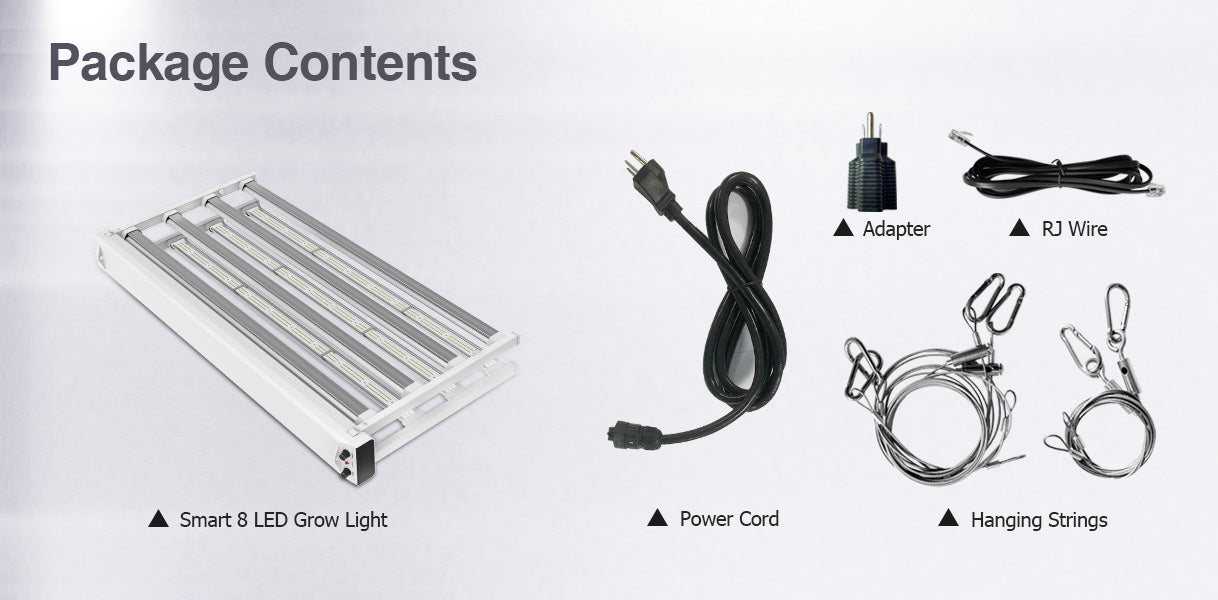 Test&Review
The detail PAR and ePAR review for Smart 8 is from  Dr. MJ COCO
I ran a total of 9 PAR and ePAR tests with the Medic Grow Smart 8. I tested it in a 5×5 space with and without the Bloom button activated. It is plenty of light for a 5×5 space but with such a good price I know growers with 4×4 tents will want to know if they can squeeze it in. I ran tests in a 4×4 at full power for growers with supplemental carbon dioxide. Most growers will have to dim the Smart 8 in a 4×4. I tested it at both 60% and 80% and it made impressive density maps perfect for growers without supplemental carbon dioxide.

In the 5×5 space, I set the hanging height based on the Maximum PAR PPFD with the Bloom switch on. The Smart 8 had a maximum PPFD of 1000 µmol/m2 at a hanging height of 58cm (23in). The Smart 8 puts out a lot of light and the distribution is great. The lowest PPFD in the corner is 508 µmol/m2 in the PAR range (400-700nm). The values are slightly higher in the ePAR range (400-750nm). In the ePAR test, the maximum PPFD ticked up to 1027 µmol/m2 and the lowest corner came up to 533 µmol/m2.

In the PAR range, the average PPFD is 747.9 µmol/m2. That converts to a usable PPF of 1682.8 µmol. I measured a power draw of 750 watts, so the Smart 8 produced 2.24 µmol of PAR light per watt. In the ePAR test, the average went up to 775.3 µmol/m2, which converts to a Usable ePPF of 1744.4 µmol. The Usable Photon Efficiency in the ePAR range is an impressive 2.33 µmol/w.

 

When I switched the Bloom button off, the power draw went down by about 9%, but the PAR and ePAR values only went down by about 7%. The Smart 8 is slightly more efficient with the Bloom button off. It had a Usable Photon Efficiency of 2.27 µmol/w in the PAR range and 2.37 µmol/w in the ePAR range. Remember, when the bloom button is off, the 660nm diodes are dimmed. The change to the spectral output is minor. You can freely use the bloom button during the whole grow. Turning it off will lower the total flux slightly, and improve the efficiency, which is fine during veg.

In a 4×4 space, the Medic Grow Smart 8 can provide ultra-high density for grows with supplemental carbon dioxide. I ran PAR and ePAR tests with it hung at 12" (30.5cm) above the sensor. The Maximum PPFD in the PAR range was 1481 µmol/m2, which is safe for grows with carbon dioxide at 1200 PPM. The fixture is a tight squeeze in a 4×4 space, extending nearly wall to wall. Although the hanging height was low, the distribution of light created by the 8 LED bars is excellent.

 

After the ePAR test at 100% power, I wanted to run a test at 80% for growers without supplemental carbon dioxide. However, at the 12" hanging height, the maximum ePPFD was still close to 1300 µmol/m2 at 80% power. I dimmed the Smart 8 to 60% power and the maximum ePPFD was 989 µmol/m2, which is close to perfect for growers without supplemental carbon dioxide. The lowest ePPFD is 566 µmol/m2, which is also great. With 60% power and a low hanging height, the efficiency was outstanding at 2.56 µmol/w. In a 4×4 space, most growers will have excellent results running the Smart 8 at 60% power 12" from the canopy.

 

 

 

At 80% power, growers without supplemental carbon dioxide will have to raise the Smart 8 considerably. It is possible to keep the maximum PPFD within the 1000 µmol/m2 limit, but I had to raise the Smart 8 up to 66cm (26in) to get there. The efficiency is slightly lower in these tests because the hanging height is so high, but the distribution of photon densities is excellent. The lowest PPFD in the PAR range is 833 µmol/m2, which is 83% of the maximum.

I am impressed with the performance, build quality, and especially the cost of the Medic Grow Smart 8. The performance stands up with the top fixtures on the market. It provides excellent coverage and superior photon efficiency. It is well made and has useful features for home growers.
 Medic Grow Smart 8 LED Grow Light Test & Review from Migro

Specifications
Model
Smart-8
Spectrum
V1 & F1 Full Spectrum
PPF(light output)

2136

 

μmol/s
Wattage
760 Watt
Efficacy
2.8 μmol/J @277 AC
Coverage
4x4 Feet; 5x5 Feet;
Fixture & Dimensions
47.2"L x 45.6 W
Driver
Designed by us and manufactured by Sosen
Power Cord
6ft long
AC Input Voltage

Default: 110-277V AC, 50/60Hz

Customizable: 347-480V AC,50/60Hz

Max Operating Temperature
95°F / 35°C
Mounting Height
≥ 6" (15.2cm) Above Canopy
Thermal Management
Passive
Dimming
0-10V
Weight
30.86lbs/14kg
Warranty
5-Year Warranty
Medic Grow Fold 8 LED Grow Light for Indoor Plants
Providing 4 x 4 ft for both vegetative and flower, our Fold 8 LED grow light for indoor plants supports all stages of plants' growing lifecycle, whether used in a tent for personal growers or chained together with up to 100 pcs fixtures in a large commercial operation.

This indoor plants grow light has the popular design of 8 lighting bars focused on distributing more light as even as possible across the plant canopy. Plus, this LED grow light offers V1 fully programmable spectrum to adapt to each phase of the plant cycle. High efficacy of 2.7 µmol/j and up to 720 wattage power consumption contribute to high efficiency growing operation.

The PPFD for this light is also quite impressive, 1208 µmol/s at 12" distance and 930 µmol/s at 24". That's enough to boost your plants' yield according to a 20-40 mole of light per day requirement. Besides that, it is dimmable from 100% to 40% so you may easily adjust the intensity of the light for the veg and flowering phases.

Our latest LED grow lights for indoor plants suit many kinds of growing operations. If you're looking for full-spectrum LED lights to use indoors or for commercial growing, this is one of the most cost-effective and efficient products on the market.
Features:
4X4 Coverage

Full Spectrum - from seed to harvest.

High PPF - 1944μmol/s

Daisy Chainable - up to 75 lights

Dimmable - OFF- 40%-60%-80%-100%

180°Foldable Easy Installation - plug & play

True 720w Power Consumption
Best grow light on the market for under 1500$
Best grow light design for the money I've ever seen.. awesome setup haven't ran it longterm but is built solid an im sure it will last way longer than I'll ever use it before upgrading.. similar lights with the same options cost 3x.. will be getting an 880x soon.. these lights are more inline with what you would see in a big commercial op.. they don't look as fancy like the growers 720 but should perform just like it.. as long as it last an I believe it will.. the biggest difference is the growers is spray painted black & the bars are spray painted gold with a big fancy housing but same basic parts diodes, bars etc. if you want to cover a large area for the best cost an still have a super high end led go with medic grow..
Medic Grow Smart 8 Full Spectrum LED Grow Light - 760w, High PPFD, Tunable Spectrum,Built-in Timer, Sunrise / Sunset, Onboard Dimming, AC100-277V
💯% Approved
Amazing light, fast shipping, and great service. If your on the fence about buying a light wait for a sale use a discount code and choose medicgrow! I did.
So far so good
I have 2 smart 8s in a 4x8...I'm able to run them on 60% and the plants are taking off....week 2 of veg....so far so good. ...
Killer Light / Low Price
You can not get a better light for your money than the Medic Grow Smart 8