X-Craft Adjustable LED Grow Light with UV & IR - 480 Watts, 4x4 Grow Tent Planting, Powerful PPFD | Medic Grow
$469.00
$589.00
saving
$120.00
X-Craft Adjustable LED Grow Light with UV & IR - 480 Watts, 4x4 Grow Tent Planting, Powerful PPFD | Medic Grow
$469.00
$589.00
saving
$120.00

X-Craft Medic Grow Adjustable LED Grow Light with UV and IR for Growing in a Tent
X-Craft is the ideal LED grow light designed specifically for growing in a tent. Featuring an passive thermal operating management system, this horticulture grow light solution has a peak temperature of 95°F while consuming 480 watts. 
This grow light system delivers uniform lighting over a maximum bloom coverage area of 4' x 4' and vegetative coverage space of 5' x 5. It provides home growers with a satisfying amount of PPF up to 1,344  µmol and 2.6 µmol/J light intensity. The extra 50-watt attachable enhanced bar with extra UV and IR chips allows users to even get more red UV light for the indoor plants. 
In order to save your mounting time, we put the driver inside the product, making it a genuine plug-and-play product. Its excellent heat dissipation design means no extra fans are required and no noise created. 

Our indoor plants LED fixtures are some of the most durable, energy efficient LED grow lights on the market.  If you're looking for a LED light to use in a tent growing, this is one of the most suitable products on the market. 
Specifications:
| | |
| --- | --- |
| Model | X-Craft |
| Spectrum | M1 Full Spectrum Veg to Bloom |
| PPF(light output) | 1248 μmol/s |
| Wattage | 480 Watts |
| Efficacy | 2.6 μmol/J @277 AC |
| Coverage | 4x4 Feet; 5x5 Feet; |
| Fixture & Dimensions | 31.5" L x 16.77" W |
| AMP | 4.08A@120V; 3.05A@230V; 2.22A@277V |
| Max Operating Temperature | 95°F / 35°C |
| Mounting Height | ≥ 6" (15.2cm) Above Canopy |
| Thermal Management | Passive |
| Dimming | 0-10V |
| Weight | 19.41lbs/8.8kg |
| Warranty | 3 Year Warranty |
The beam angle of light bars are adjustable.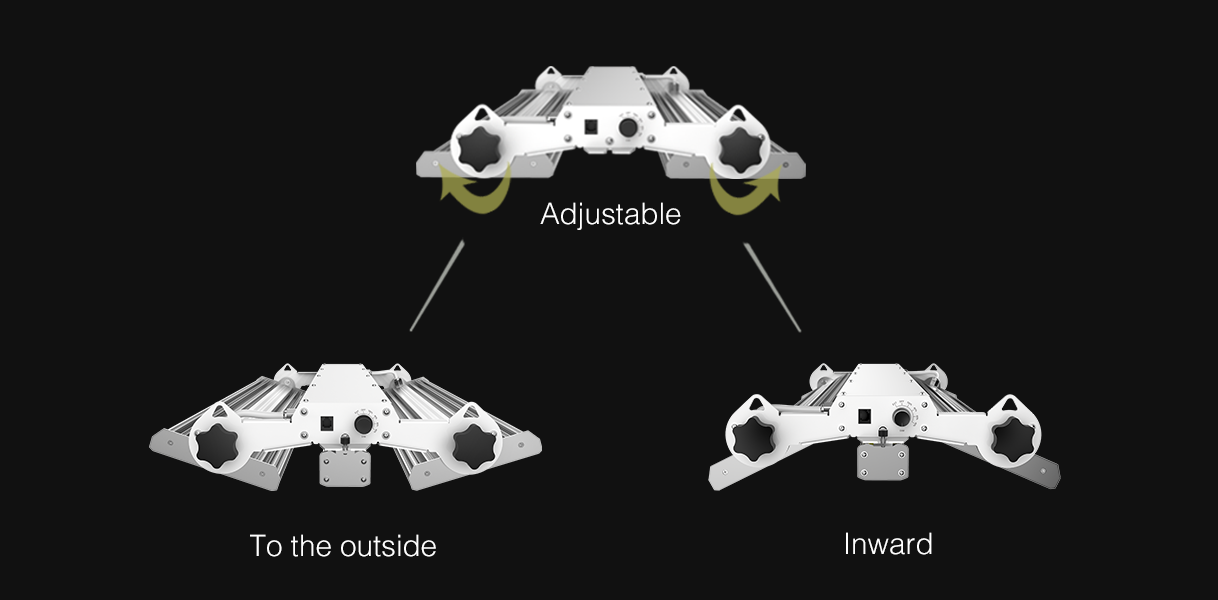 Using High Efficacy Samsung Chips:
User can add an extra 50 watt bar in the middle of the fixture to provide more far red UV light.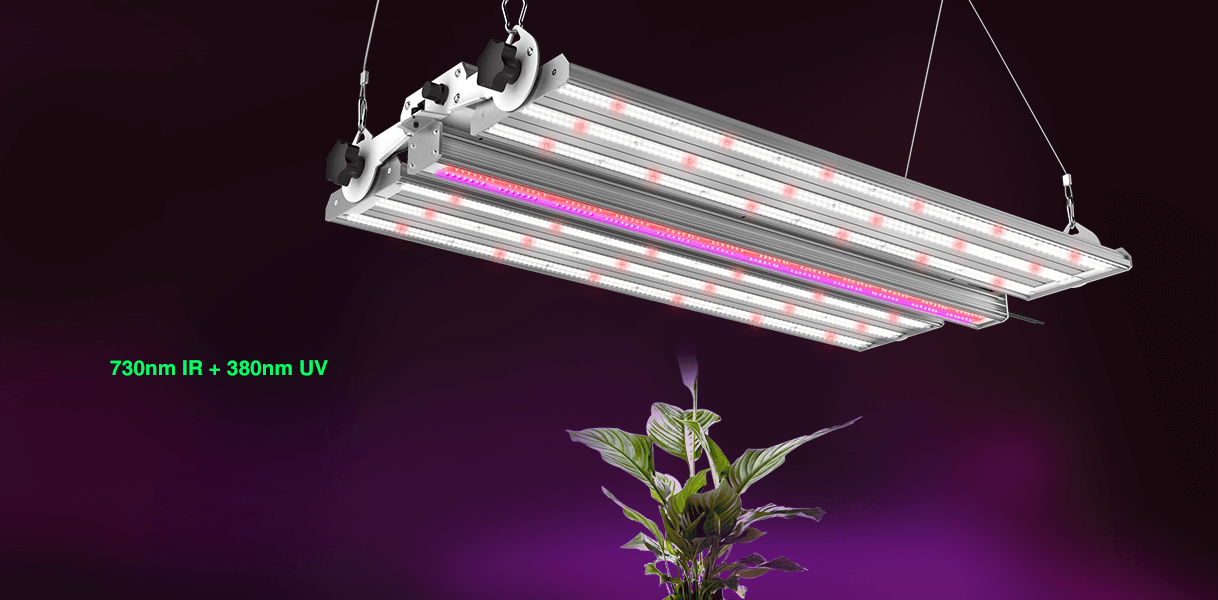 Designed for 4'×4' and 5'×5' Grow Tent Planting

Powerful PPFD in the center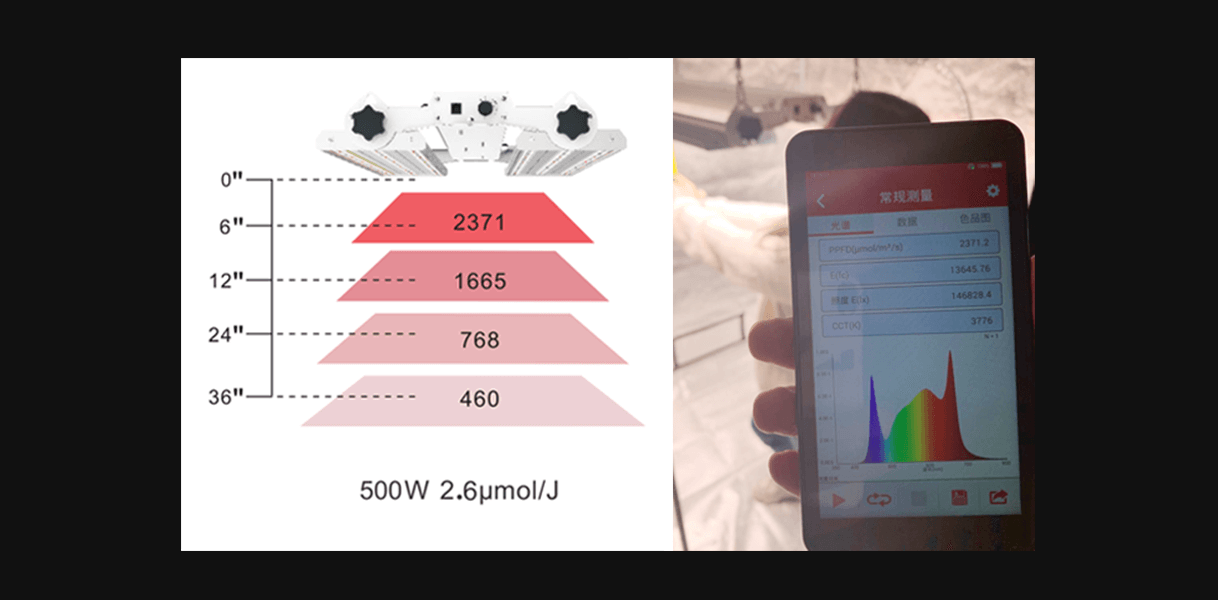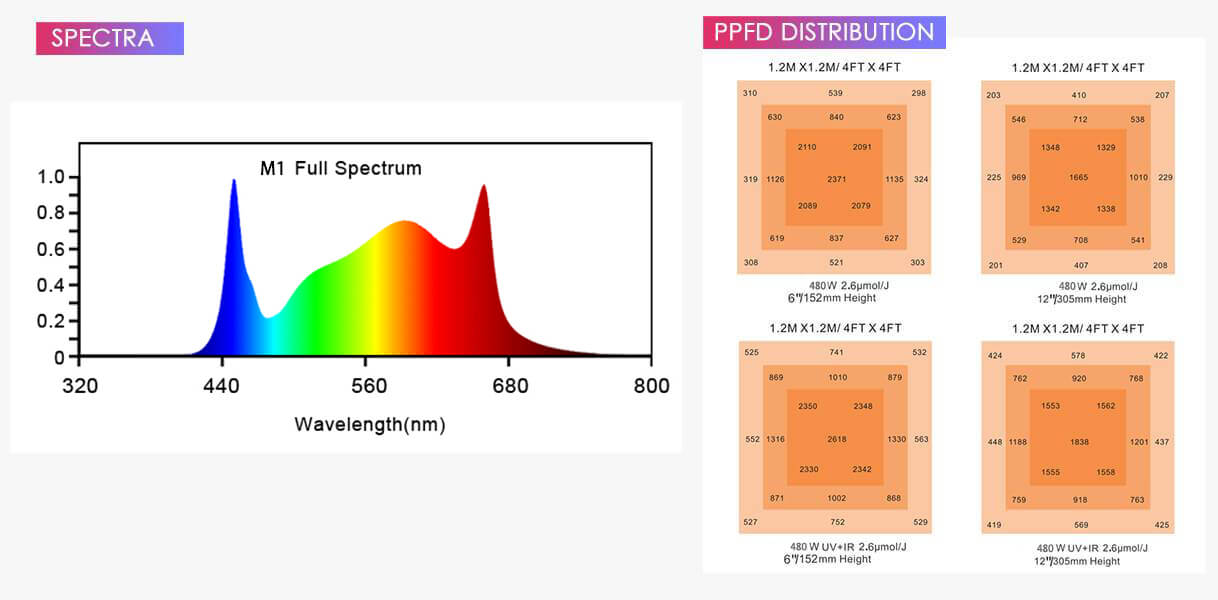 Product Size:

LED GROW LIGHTS FREQUENTLY ASKED QUESTIONS:
1. What Payment do you accept?
We accept PayPal and credit cards. For bulk orders, we use bank transfers.
2. How much is the shipping cost?
We provide US local delivery free of charge.
3. How long does it take to arrive?
For international shipment, it depends on the shipping company you choose, usually, if it goes by sea, will take around 30 days. 
For US local delivery, it takes around 5-7 days, door-to-door service.
4. Do I have to pay import tax?
No need, we take care of that for you.
5. Are your LEDs full-spectrum?
Yes, all of our lights are full spectrum.
6. Do the light comes with a lighting controller?
No, the controller needs to be purchased separately. You may contact sales@medicgrow or live chat with us for more information.
7. Can your lights be daisy-chained?
Yes, you can connect up to 100 pcs LEDs using a lighting controller for larger growth.
8. Can you send me a detailed specification of your lights?
Yes, we would like to, please email us at sales@medicgrow.com We will reply in 24 hours.
9.  Do you
 

have any certifications for your lights? Can you send me the certification test report?

Yes, our lights are UL certified. Sorry, we can't share our certification report with you due to the technical secret inside.
10.  Can I have my LOGO printed on the body of the light/package?
Yes, but there is a MOQ request, please contact us at sales@medicgrow.com 
11. Can you make the light 1000 watt?
Yes, our product Ez-6 can be customized to 1000W. The minimum order quantity is 100 pcs. 
12. Can you offer me the best price?
The price online is the best price we can offer. You are welcomed to join our referral program for a 5% discount if your friend/family buys from Medic Grow. 
powerful light
I purchased the x-craft light, it is fantastic! Far exceeded my expectations.