Medic Grow Slim Power 2 Commercial Greenhouse LED Grow Lights - 550W, IP67 Waterproof, Perfect Heat Dissipation, High PPFD, Full Spectrum, Daisy Chain
Medic Grow Slim Power 2 Commercial Greenhouse LED Grow Lights - 550W, IP67 Waterproof, Perfect Heat Dissipation, High PPFD, Full Spectrum, Daisy Chain
Get $270 off with code 'MGSP'
15-Day Return & Replacement
Description
As one of the best greenhouse LED Grow Lights, Medic Grow Slim Power 2 is specially developed to replace 1000-Watt HPS for supplemental or major lighting in greenhouse applications of vegetables growing.  Designed and manufactured strictly according to the high standard of commercial greenhouse led grow lights, the slim power 2 becomes not only the best LED grow light for greenhouse but also an ideal solution for medium or small home growing.
Slim Power 2 is a full cycle LED Grow light with broad spectra and enhanced red light for max yields.  Built with 2300Pcs high quality White LED and  Osram red LED diod, Slim Power 2 delivers uniform light on a coverage area of 6.56' x 4'  space. The average PPFD value is 3271 µmol/m2/s(6'' above the canopy). Light output PPF amount is about 1540 µmol/s and light efficacy PPE is 2.8 µmol/J. It only requires 550 Watts power. 
It is maded to be a single bar LED grow light. The width is only  5.38'', which makes the shadow effect as small as possible on the crops in the greenhouse.
For greenhouse lights, waterproof performance also play an important role. Slim Power 2's IP Rating is IP67,  which means that you can even immerse it into the water. As to the driver, the connector sealing to the light,  the LED light board, they are all processed with waterproof technology. 
Slim Power 2's entire heat-sink is made from a single sheet of aluminum alloy. Most of the heat will be transferred to the cooling fins which can increase the rate of heat transfer to outside through air convection. No extra fans, high heat dissipation, less power and no noise.
Slim Power 2 LED Grow Lights for Greenhouse Features:
IP67 waterproof - the fixture can even be washed when it is on;
Unibody heat-sink design  - safer, more efficient, more power-saving, no risk of overheating ;
The compact driver and linear design contribute to minimum shadow on plants;
2.8 µmol/J high efficacy and high PPF up to 1540 µmol/s;
Broad & enhanced red F1 spectrum, better in optimizing spectral content and light levels for any crop at any growth stage.

RJ Signal Cable 

Daisy Chainable - Max 140Pcs of lights with the help of TSC-2 Controller;
Power Cord Chainable - Control 3 fixtures with 1 power adaptor 
Easy Installation - The compact driver and linear design makes it daisy chainable from one fixture to another;
Default voltage of 110-277V, and 347-480V is customizable.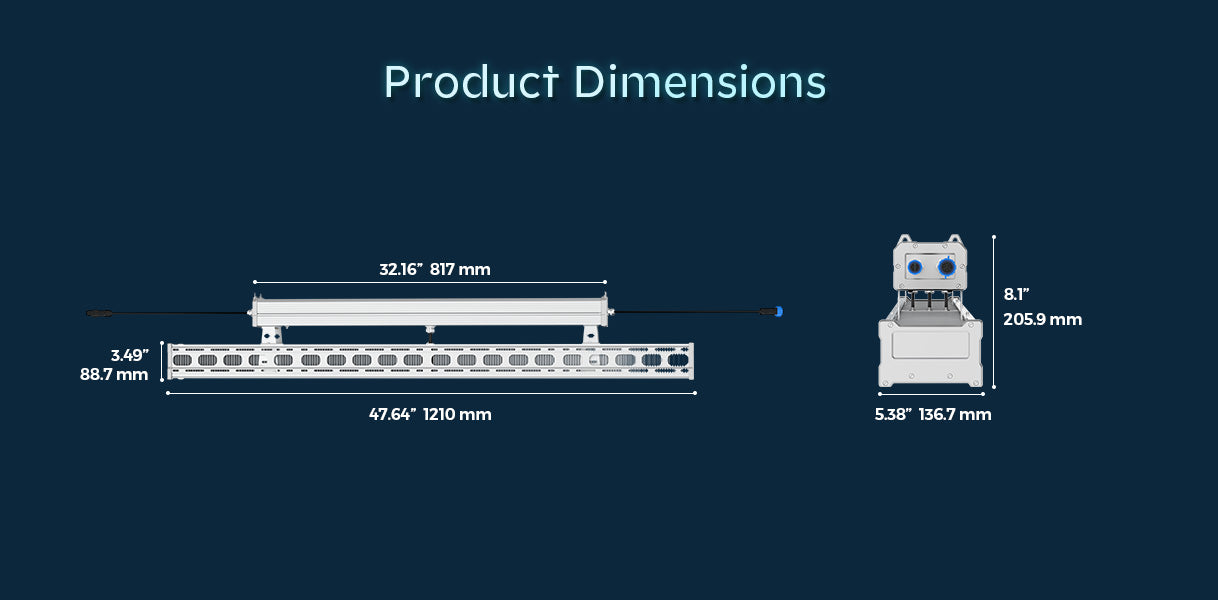 Specification
Model No.
Slim Power 2
Spectrum
F1
PPF(light output)
1540 μmol/s
Wattage
550 Watts ± 5%
Efficacy
2.8 μmol/J @277 AC
Best Coverage
6.56 x 4 Feet
Dimming
0-10V by Wire
Daisy Chain
3 Unit for Power Connection
100 Units Controlled by GLC-1 through Wire(Required Adaptable Cable)
140 Units Controlled by TSC-2 through Wire

(Required Adaptable Cable)

AC Input Voltage

Default: 110-277V AC, 50/60Hz

Customizable: 347-480V AC,50/60Hz

AC Input Current
5.1 A (@120 V AC)
2.2 A (@277 V AC)
Mounting Height
≥ 3FT (90cm)Above the Canopy
Waterproof Grade
IP67
Thermal Management
Unibody Cooling Fin Construction
Fixture Dimensions
47.64'' x 5.38" x 8.1"
Net Weight
27.19 lbs / 12.33 kg
Max Operating Temperature
104°F / 40°C
Life Span
>50,000hours
Warranty
5-Year Warranty
Medic Grow Fold 8 LED Grow Light for Indoor Plants
Providing 4 x 4 ft for both vegetative and flower, our Fold 8 LED grow light for indoor plants supports all stages of plants' growing lifecycle, whether used in a tent for personal growers or chained together with up to 100 pcs fixtures in a large commercial operation.

This indoor plants grow light has the popular design of 8 lighting bars focused on distributing more light as even as possible across the plant canopy. Plus, this LED grow light offers V1 fully programmable spectrum to adapt to each phase of the plant cycle. High efficacy of 2.7 µmol/j and up to 720 wattage power consumption contribute to high efficiency growing operation.

The PPFD for this light is also quite impressive, 1208 µmol/s at 12" distance and 930 µmol/s at 24". That's enough to boost your plants' yield according to a 20-40 mole of light per day requirement. Besides that, it is dimmable from 100% to 40% so you may easily adjust the intensity of the light for the veg and flowering phases.

Our latest LED grow lights for indoor plants suit many kinds of growing operations. If you're looking for full-spectrum LED lights to use indoors or for commercial growing, this is one of the most cost-effective and efficient products on the market.
Features:
4X4 Coverage

Full Spectrum - from seed to harvest.

High PPF - 1944μmol/s

Daisy Chainable - up to 75 lights

Dimmable - OFF- 40%-60%-80%-100%

180°Foldable Easy Installation - plug & play

True 720w Power Consumption