Ez-8 LED Grow Light, 1000 Watt, Full Spectrum, High PPF,100-277v | Medic Grow
Ez-8 LED Grow Light, 1000 Watt, Full Spectrum, High PPF,100-277v | Medic Grow
 Ez-8 Medic Grow LED Grow Light for Indoor Plants
EZ-8 represents powerful LED grow lights for indoor plants we've ever made. It puts out more light than many other LED grow lights as well as 1000 watt HPS lighting solution. The wattage can be programmed up to 1000 watt to suit specific requirements.
This LED grow light puts out a full spectrum suitable for all phases of growth. It is designed especially for grow tents and several lights in a commercial operation. Covering 5x5 for both veg and bloom, it has been one of our most productivity-enhancing LED grow lights. 
We design and build the LED fixture with one thing in mind: long-term usage. Therefore, Ez-8 is equipped with heavy-duty aluminum which can be worked in harsh commercial growing conditions with a lifespan up to 50,000 hours.
Furthermore, its 8 removable and replaceable bars make it easy to install and transport, and the integrated knob dimmer allows you to easily reduce the power output if you're growing seedlings, or increase the power when blooming. 
As a grower, we all know that light spectrum has a huge impact on efficiency of photosynthesis. Since 430 nm and 660 nm are both the strongest driving force for the photosynthesis of your medical plant, we created V1 spectrum which has a balanced wavelength covering all the phases of your growing.
Each of our indoor plants LED grow lights can be used individually or chained together in a commercial application. It is easy to use, plug and play and requires little maintenance, so long lifespan operating costs plus easy installation give you the best bang for your buck!
Specifications:
| | |
| --- | --- |
| Model | Ez-8 |
| Spectrum | V1 Full Phase |
| PPF(light output) | 2700 μmol/s  |
| Wattage | 1000 watt  |
| Efficacy | 2.7 μmol/J @277 AC |
| Coverage | 4x4 Feet; 5x5 Feet; |
| Fixture & Dimensions | 46.93" L x 46.93" W |
| AMP | 120-277V AC,347-480V AC,50/60Hz |
| Max Operating Temperature | 95°F / 35°C |
| Mounting Height | ≥ 6" (15.2cm) Above Canopy |
| Thermal Management | Passive |
| Dimming | 0-10V |
| Weight | 30.8 lbs/14kg |
| Warranty | 3-Year Warranty |
Higher Efficacy Higher Harvest: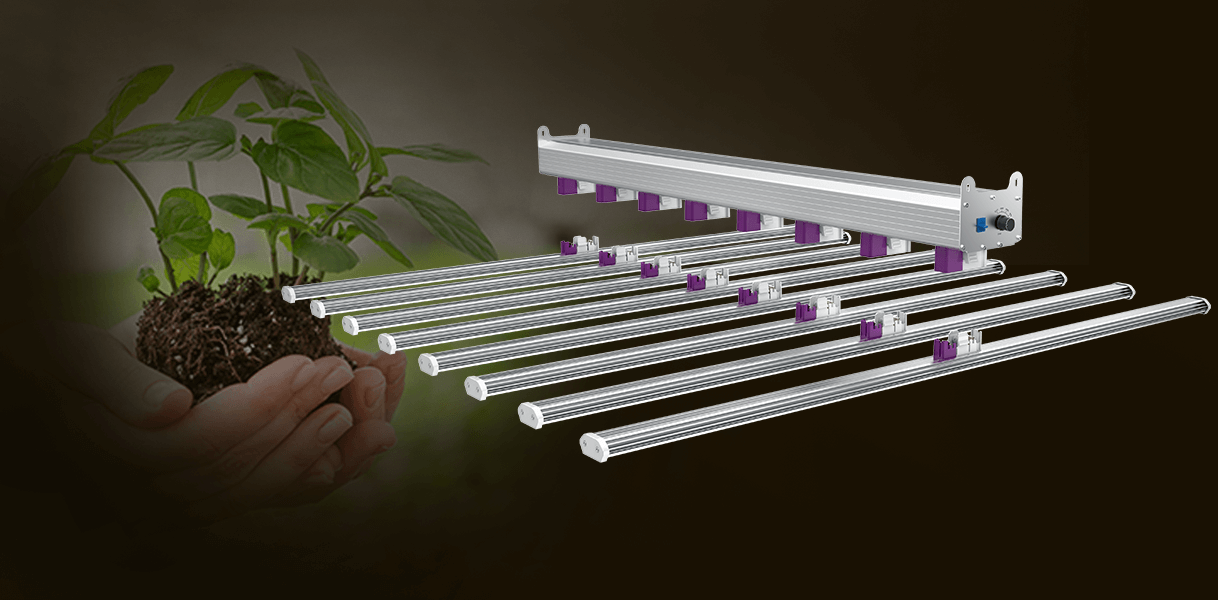 No wire installed and it comes with a dimmer knob to adjust brightness:
Each bar is removable and replaceable, easy to install. No wired installed, it takes less than 30 seconds to install a fixture.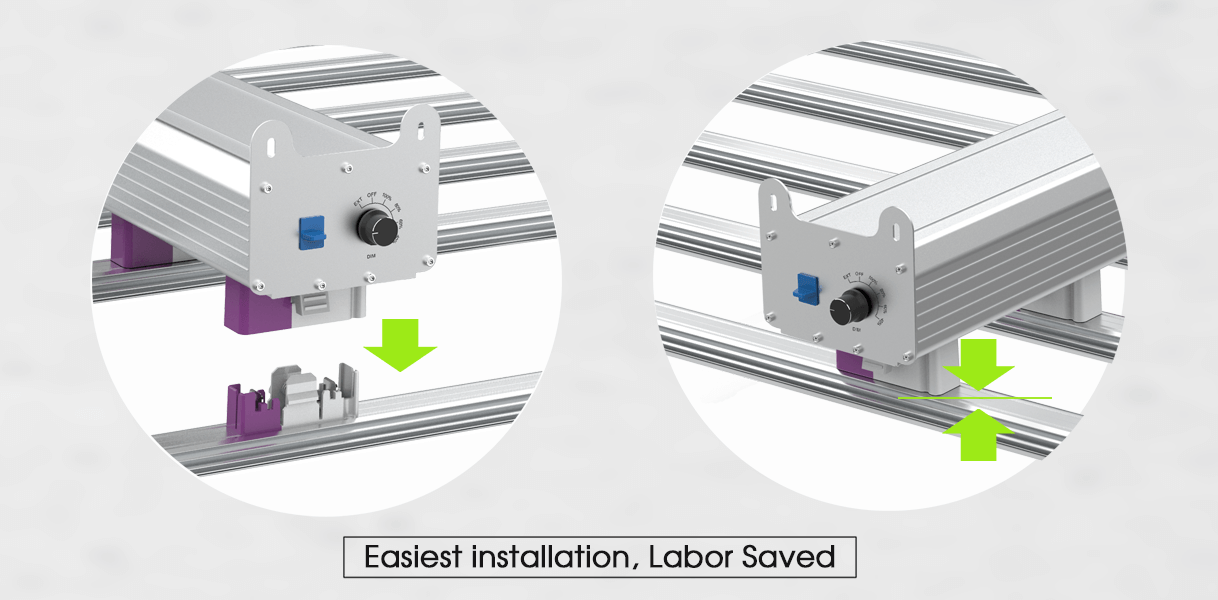 Full Spectrum: 

top-lighting solution
PPFD Distribution:
Product Size:

---
LED GROW LIGHTS

 

FREQUENTLY ASKED QUESTIONS:
1. What Payment do you accept?
We accept PayPal and bank transfer. For lights less than 10 pcs, we accept PayPal and for bulk orders over 10 lights, we accept bank transfer. Contact us if you are a commerical grower.
2. How much is shipping cost?

We provide US local delivery free of charge
free of charge
.
3. How long does it take to arrive?

For international shipment, it depends on the shipping company you choose, usually if it goes by sea, will take around 30 days.

For US local delivery, it takes around 5-7 days, door to door service.

⚠️  Due to COVID-19, some lights are under extended processing times. Processing times can span anywhere from 2 - 14 business days, sometimes longer.
4. Do I have to pay import tax?

No need, we take care of that for you.
5. Are your LEDs full spectrum?
Yes, all of our lights are full spectrum.
6. How to intall/hang the light?
Please check the installation video we made: 

https://www.youtube.com/watch?v=jsGkxboI8LM&t=6s
7. Do the light comes with a lighting controller?
No, the controller needs to be purchased separately. You may contact order the 
lighting controller
 on our site directly.
8. Can your lights be daisy-chained?
Yes, you can connect up to 75 pcs LEDs using a lighting controller for larger growth.
9. Can you send me a detailed specification of your lights?
Yes, we would like to, please email us at sales@medicgrow.com We will reply in 24 hours.
10. Do you
 

have any certifications for your lights? Can you send me the certification test report?

Yes, our lights are UL certified. Sorry, we can't share our certification report with you due to the technical secret inside.
11. Can I have my LOGO printed on the body of the light/package?
Yes, but there is a MOQ request, please contact us at sales@medicgrow.com
12. Can you make the light 1000 watt?
Yes, Ez-8  has 1000 watt and you can choose 1000 watt.

13. Can you offer me the best price?
The price online is the best price we can offer. You are welcomed to join our referral program for a 5% discount if your friend/family buys from Medic Grow.
14. Can you tell me the light distance and light intensity for all: 1)  seedling stage, 2) veg stage and 3) flowering stage?
It really depends on which species that you are planning to plant. Each of your plant's phase of growth would have different spectrum and light intensity needs. Generally speaking, we recommend 18w fluorescent lamp hang around 6" for seedling stage, our light at 30" for veg and at 12" for flowering stage. You can adjust the height of the light or by using the dimmer so that you can tune the photon intensity to fit in various growing stages.
Ez-6 LED Grow Light, 900 Watt, Full Spectrum, Samsung LEDs,High PPF | Medic Grow
Love this light! I like that I can use the dimmer on the light to change how much power is being used. I highly recommend this light. It evenly distributes the light throughout the tent.