Medic Grow MINI SUN-2 Compact Full Cycle LED Grow Light for Rack / Grow Tent - Powerful PPFD, 150W/240W/320W/500W Covers 2x2,2.5x2.5,2x4,3x3,3x5 Built-in Timer, LCD Display, 0-10V Dimming, Daisy Chain, Heat Dissipation
Medic Grow MINI SUN-2 Compact Full Cycle LED Grow Light for Rack / Grow Tent - Powerful PPFD, 150W/240W/320W/500W Covers 2x2,2.5x2.5,2x4,3x3,3x5 Built-in Timer, LCD Display, 0-10V Dimming, Daisy Chain, Heat Dissipation
Continental US Order:
Discreet
Free Shipping, No Tax, 3-7 Days FedEX Delivery from US Warehouse
15-Day Return & Replacement
Description
Medic Grow MINI SUN-2 Compact High Efficacy Full Cycle LED Grow Light

The MINI SUN-2, a compact high efficacy full cycle LED grow light ideal for use on racks or in small growing tents. Top Brand WHITE LEDs & OSCRM RED LEDs allow it to efficiently produce the best V1 full-spectrum for higher yields. 
The MINI SUN-2 is capable of providing home growers with exceptional lighting performance.
For MINI SUN-2 500W, with supplemental CO2, it offers uniform lighting across a maximum bloom coverage area of 2' x 4' and a vegetative coverage space of 3' x 5'. The PPFD value it delivers is outstanding, reaching up to 3176µmol/m2/s. Additionally, it boasts a high PPF output of up to 1400µmol/s and an impressive power efficacy of 2.8 µmol/J. What's more, this remarkable lighting solution only requires 500 watts of power, making it an incredibly energy-efficient choice.
It delivers uniform lighting over a maximum bloom coverage area of 2.5' x 2.5' and vegetative coverage space of 3' x 3' . MINI SUN-2 320W provides home growers with a superior PPFD value of up to 3200µmol/m2/s, the amount of PPF is up to 896 µmol/s and power efficacy is 2.8 µmol/J. It only requires 320 Watts power. Incredible Low Energy. 
Mini Sun-2 240W has the same size as 320W version.  The amount of PPF is 672 µmol/s. It can cover 2×2 for commercial or growing with CO2 and 2.5×2.5 for growing without CO2. Same power efficacy of 2.8 µmol/J. It provides grower with PPFD of 2300 µmol/m2/s at height 6''.
While MINI SUN-2 150W provides growers design for personal grower who grows wihtout CO2 in a 2' x 2' tent, The range of PPFD value is from 625-1017µmol/m2/s and the average PPFD is about 831.5µmol/m2/s, at height 14.7''/373.4mm. The amount of PPF is up to 420 µmol/s and light power efficacy is 2.8 µmol/J. Estimate output is about 0.36lbs - 0.5 lbs.
The built-in timer knob as well as LCD Display help to automate the tiny, simple, regular but essential time controlment every day. It is controller free and you can feel free to concentrate on other complacted growing factors. 
The on board dimming control and remote dimming access with LED light controller by standard RJ cable connection allows you to easily adjust light output to plenty of fixtures with same level for stable yields.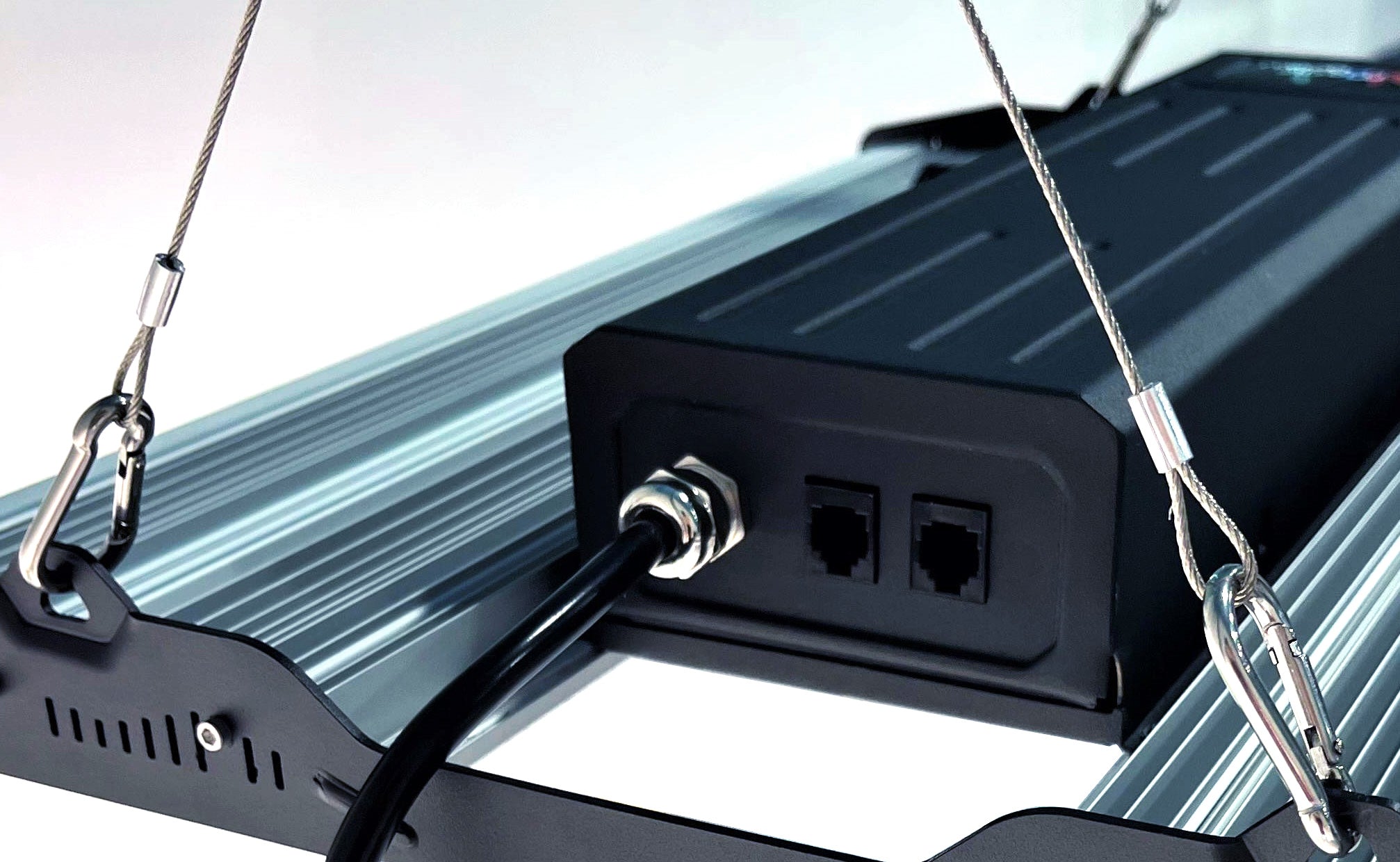 Thanks to the integrated design of driver and optimized light layouot in MINI SUN-2, the laborious mouting process is removed, which making it a genuine plug-and-play product. Hang it on the rack or grow tent and start growing. Its excellent heat dissipation design means no extra fans are required and no noise created.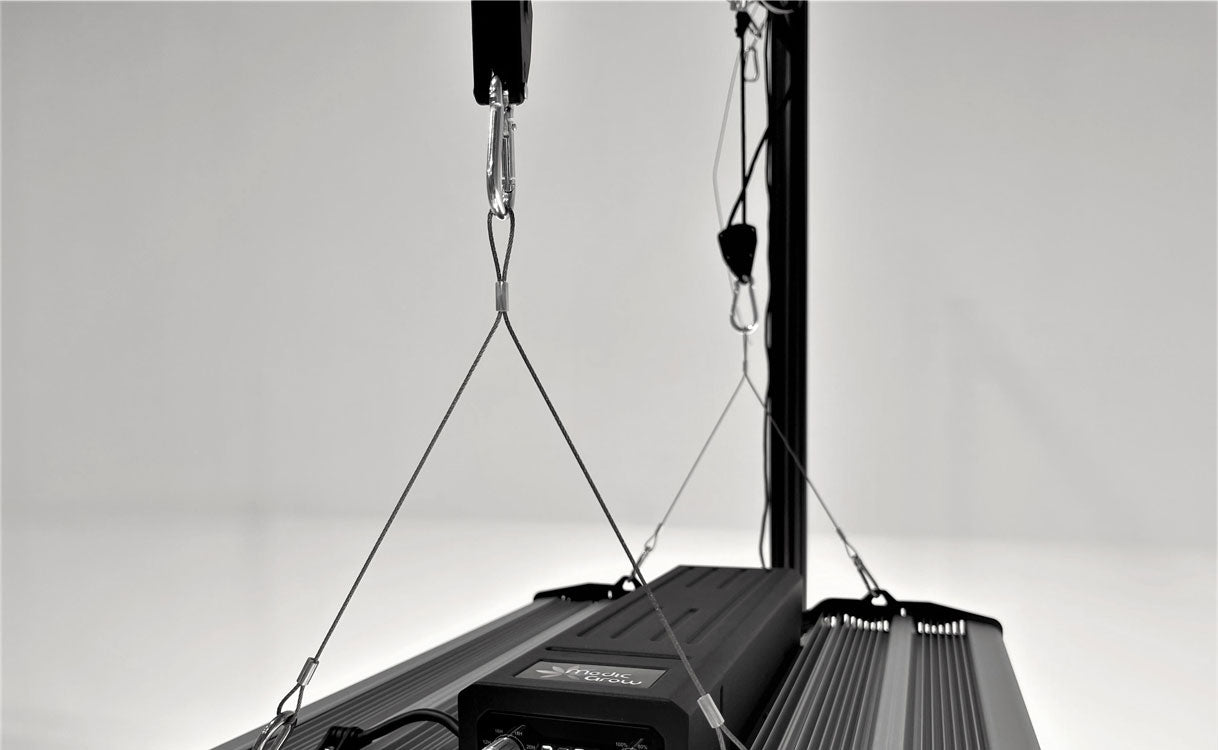 Like other Medic Grow LED Grow Light fixtures, MINI SUN-2 is one of the most durable, energy efficient LED grow lights on the market with 5-year warranty. If you're looking for a Compact, High Effficacy Full Cycle LED grow light to use on rack or in a tent growing, MINI SUN-2  is one of the most suitable products.
Key Features:
Rack / Grow Tent led grow light for hobby growers;
Full Cycle V1 Spectrum for better yields;
Compact, best for 2

' × 2', 2.5

' × 2.5' and

 3' × 3' etc.;
For 150W Power:

Average PPFD of 831.5

μmol/m2/s 

@ 14.7 '' in height, efficacy is up to 2.8μmol/J, and PPF is up to 420μmol/s;

For 240W Power: 

High PPFD of 2300

μmol/m2/s 

@ 6 '' in height, efficacy is up to 2.8μmol/J, and PPF is up to 672μmol/s;

For 320W Power: High PPFD of 3200μmol/m2/s @ 6 '' in height, efficacy is up to 2.8μmol/J, and PPF is up to 896μmol/s;
For 500W Power:

 

High PPFD of 3176μmol/m2/s @ 6 '' in height, efficacy is up to 2.8μmol/J, and PPF is up to 1400μmol/s;
Built in Controller with timer and dimmer knob on board;
Easy to Read LCD Display;
Better Heat Dissipation Design with aluminum heatsink;
Daisy chainable with RJ signal cable for large scale growing;
Compatible with TSC-2 / GLC-1 and 0 10 V dimming controller;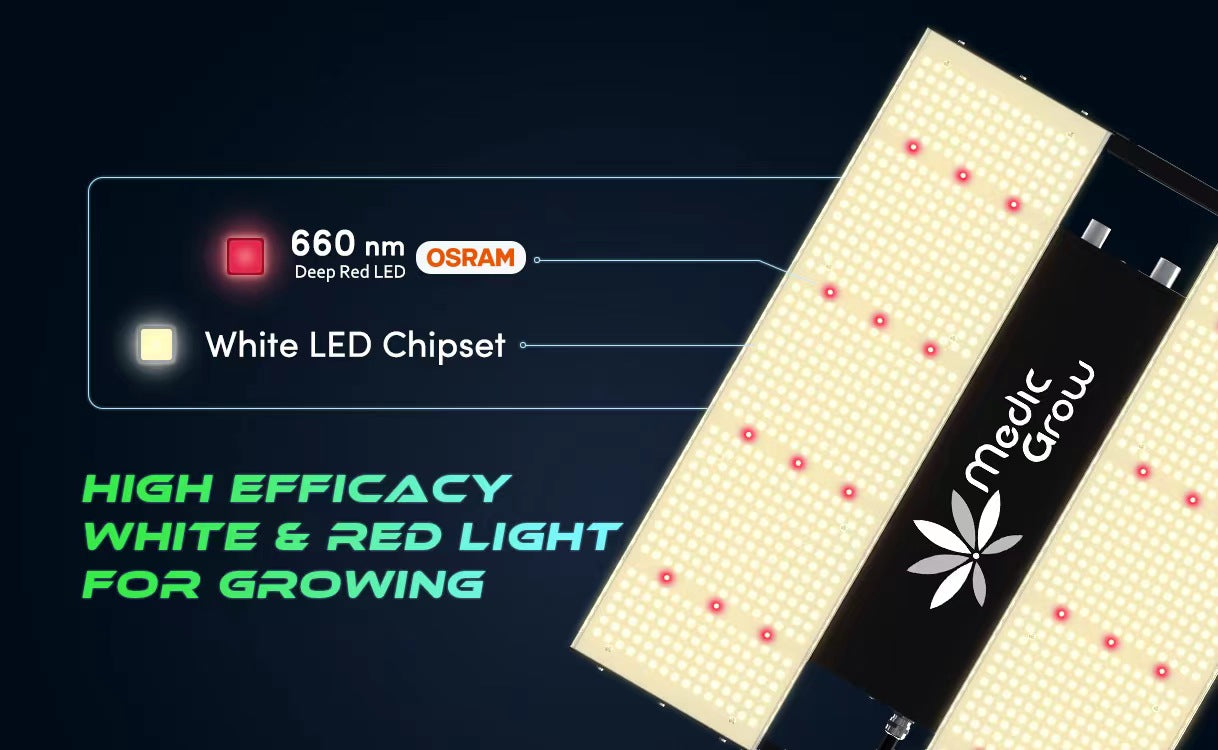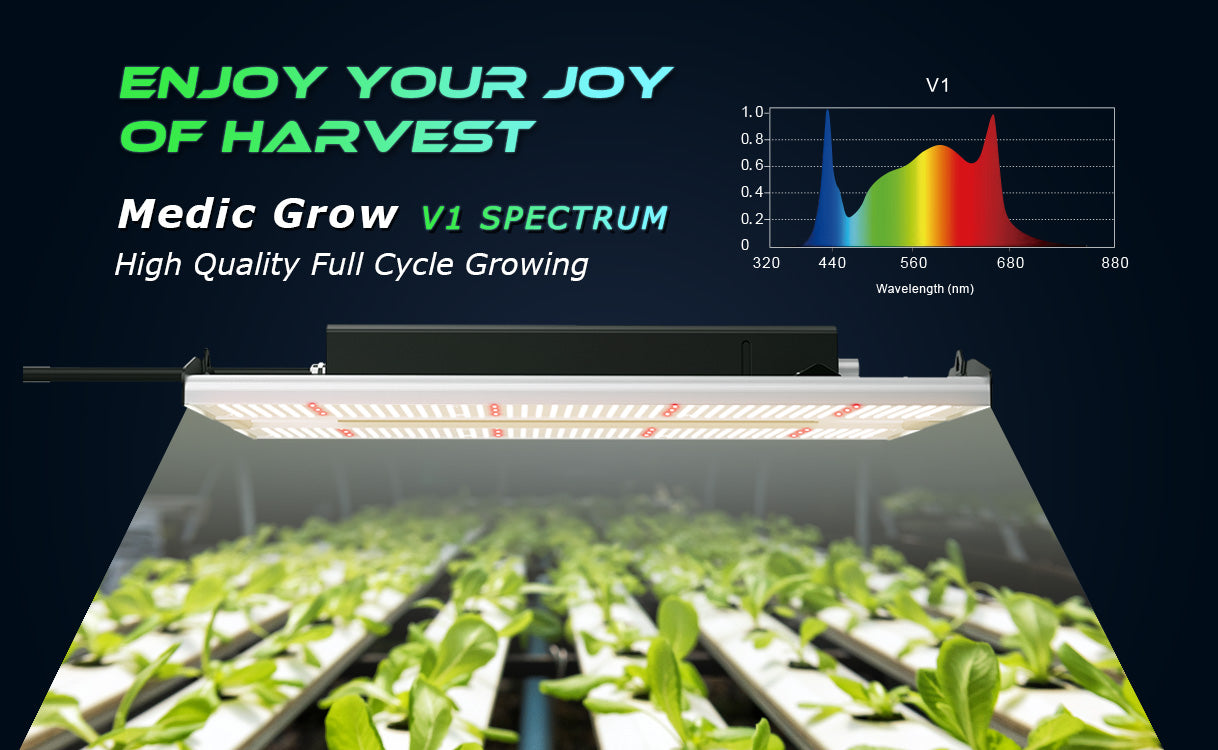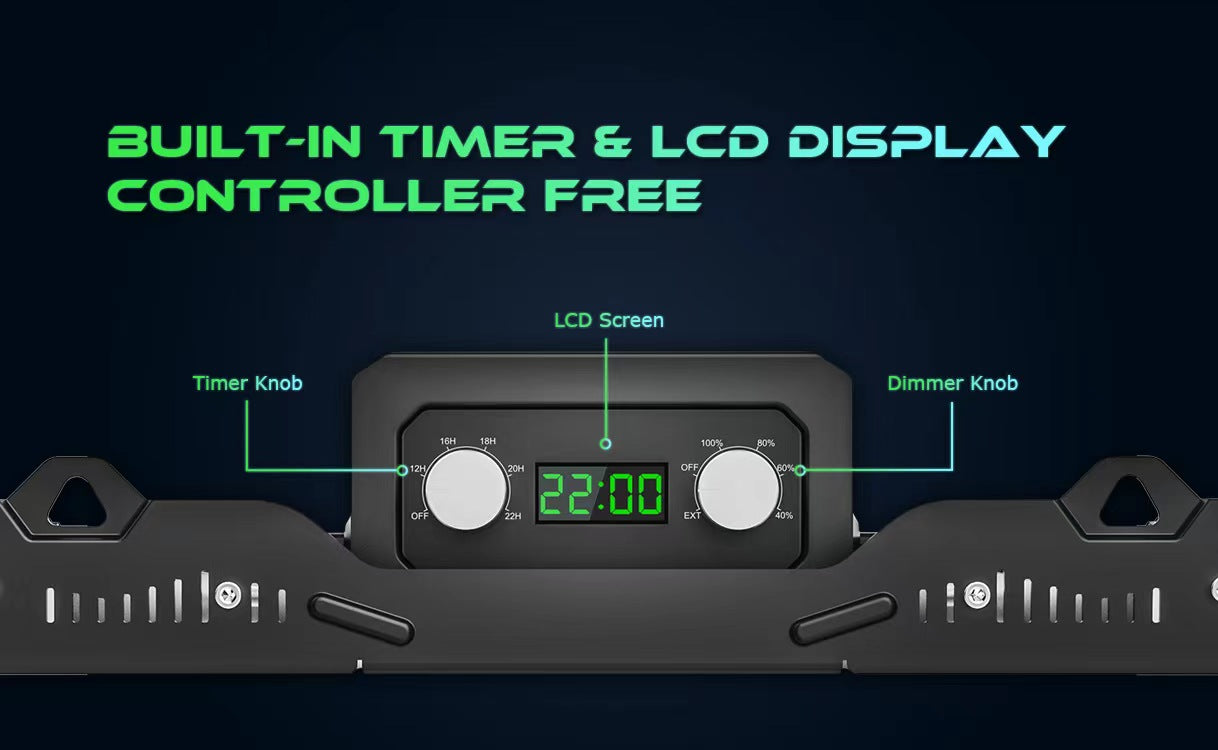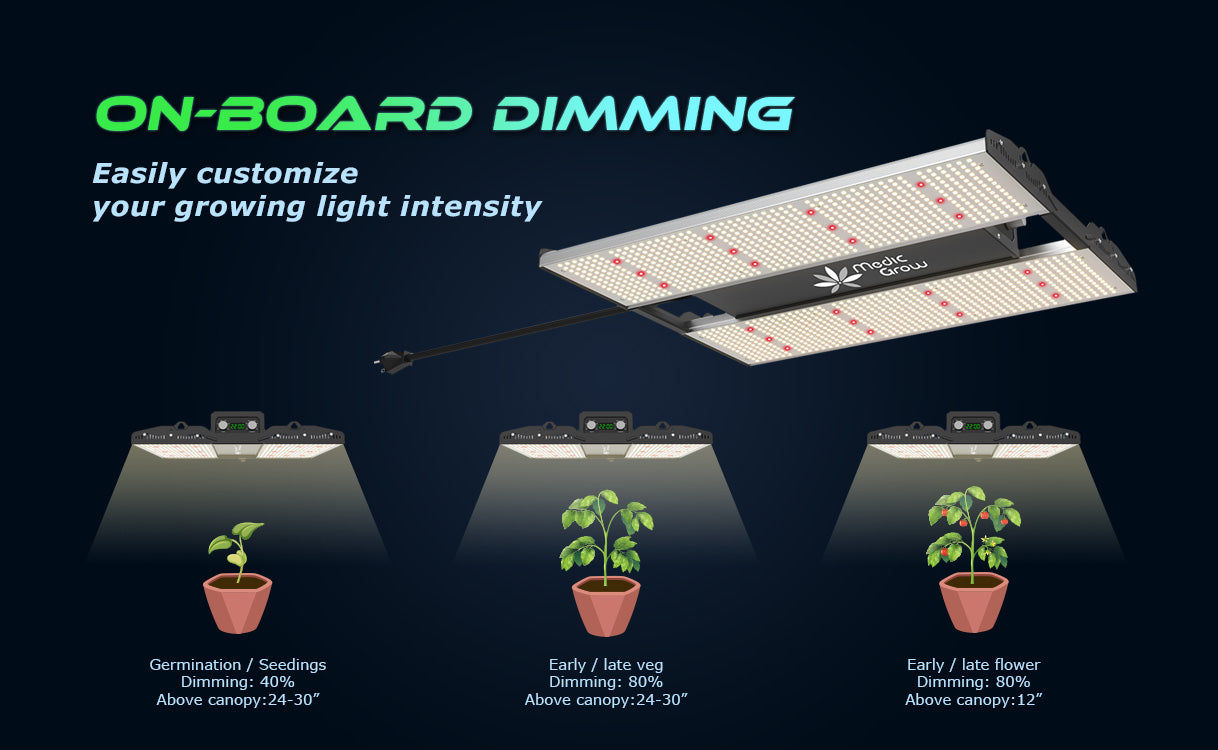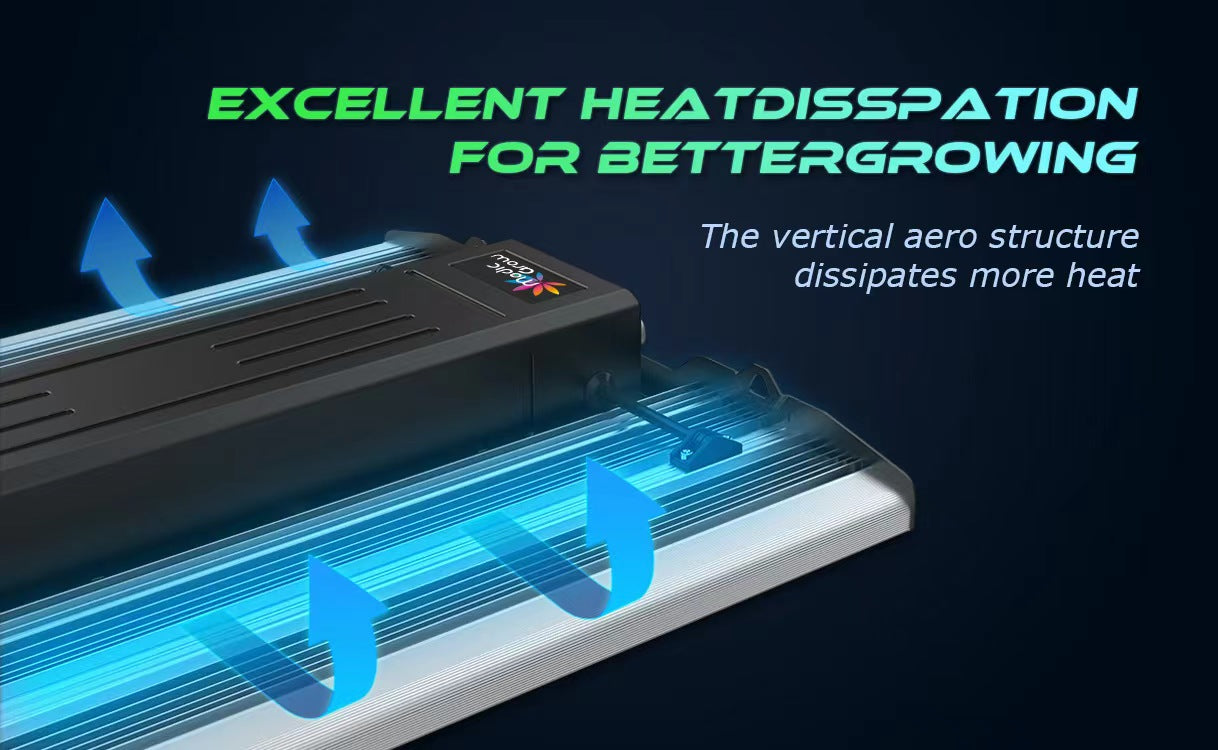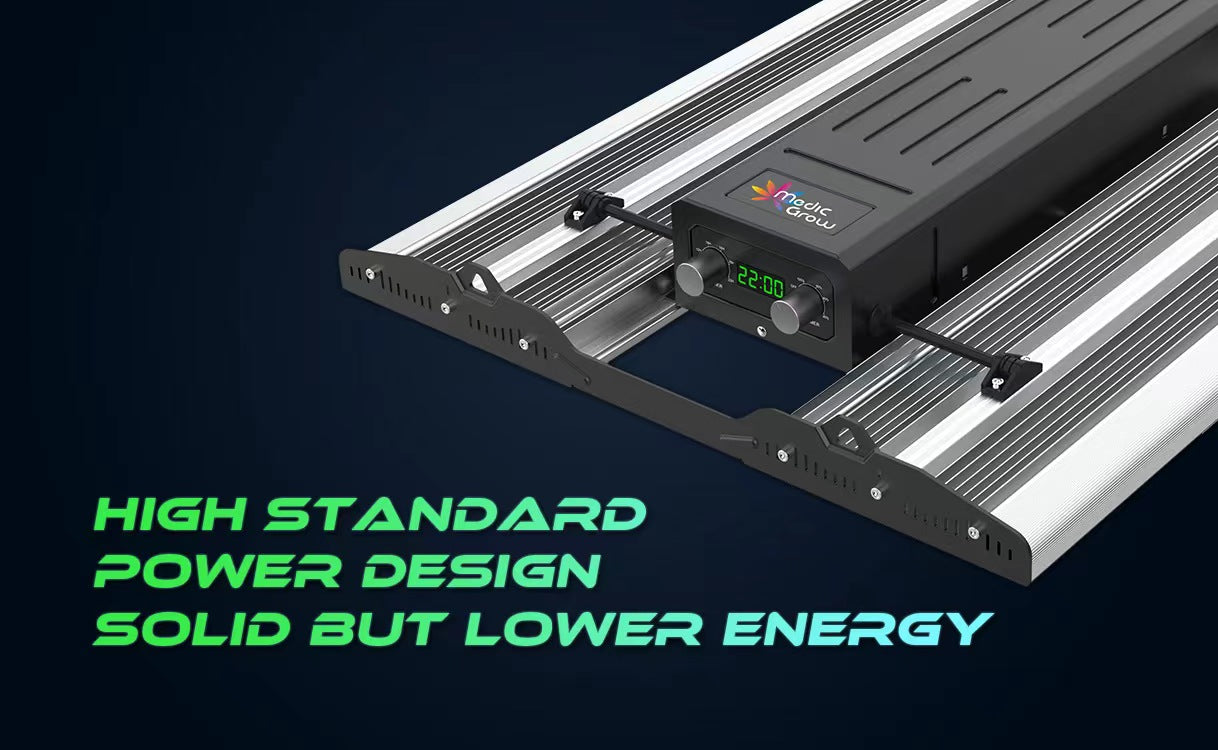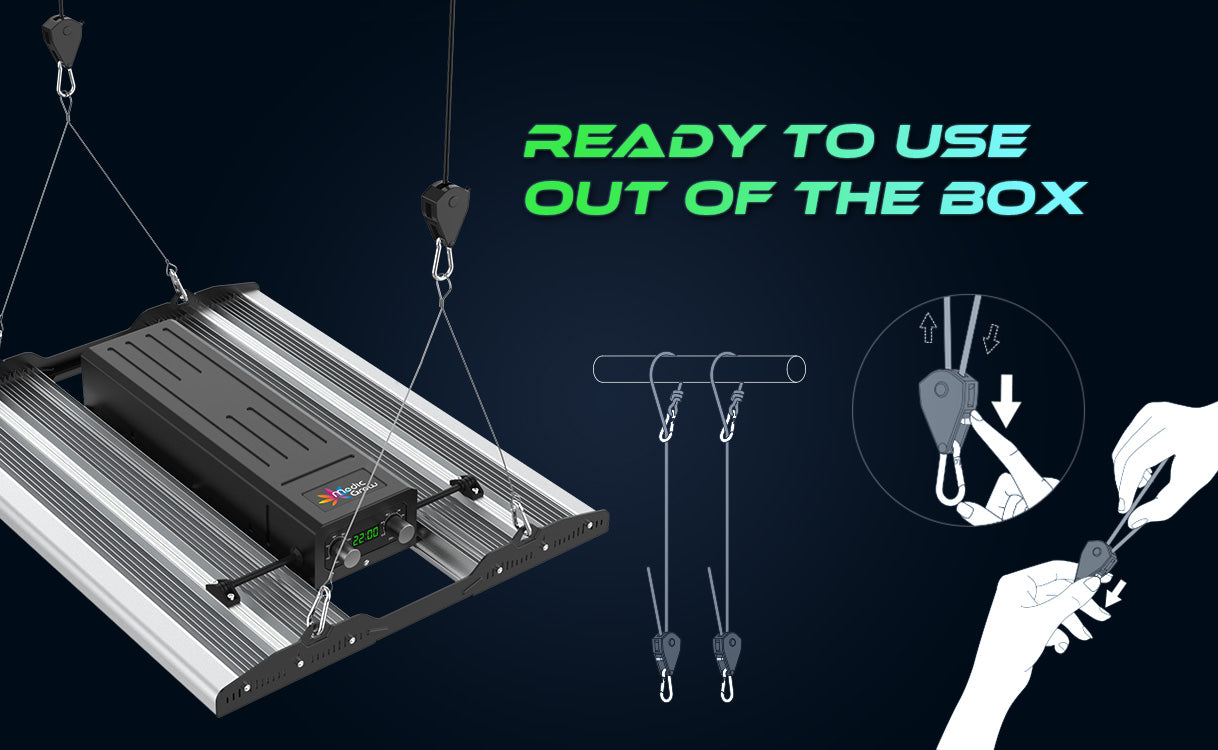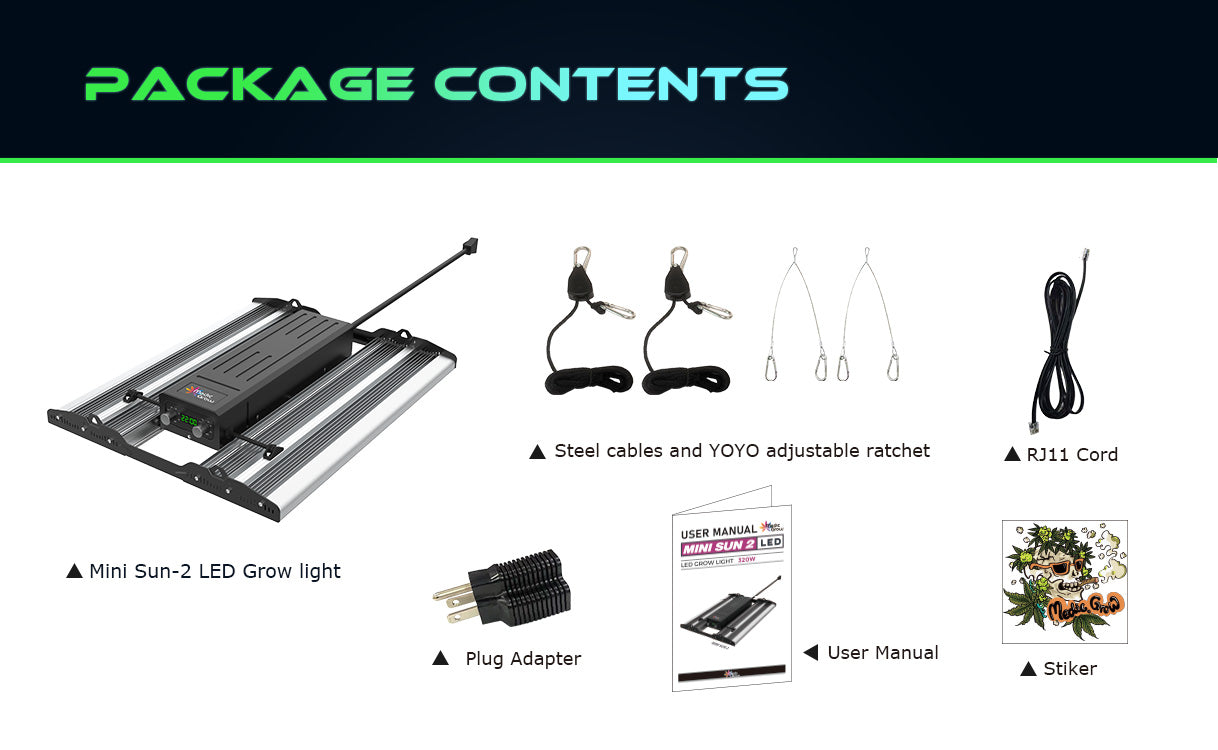 Test&Review
Medic Grow Mini sun 2 PAR Test & Review from Dr. MJ Coco
Specification
Model
MINI SUN-2
Spectrum
V1 Full Spectrum Veg to Bloom
PPFD (PAR Value)
3176μmol/m2/s @ 6''(15.2cm) in height
3200μmol/m2/s @ 6''(15.2cm) in height

2300

μmol/m2/s @ 6''(15.2cm) in height
Average PPFD vale of  831.5μmol/m2/s @ 14.7''(37.34cm) in height
PPF(light output)

1400 μmol/s

896 μmol/s

672 μmol/s

420μmol/s
Wattage
500 Watts
320 Watts
240  Watts
150 Watts
Efficacy
2.8 μmol/J @277 AC
Coverage

3x5 Feet @ Bloom(Without CO2);

2x4 Feet @ Bloom(With CO2)

3x3 Feet @ Bloom(Without CO2);

2.5x2.5 Feet @ Bloom(With CO2)

2.5x2.5 Feet @ Bloom(Without CO2);

2x2 Feet @ Bloom(With CO2)

2x2 Feet @ Bloom (Without CO2)

Fixture & Dimensions

15.87" L x 32.68" Wx 2.68" H

19.8" L x 15.86" W

x 2.6" H

19.8" L x 15.86" W

x 2.6" H

15.87" L x 15.91" W

x 2.64" H

AMP

5A@120V

2.4A@240V

2A@277V

3.3A@120V;

1.5A@240V;

1.3A@277V

2.2A@120V;

1.2A@240V;

1.1A@277V

1.4A@120V;

0.7A@240V;

0.6A@277V

Max Operating Temperature
104°F / 40°C
Mounting Height
≥ 6" (15.2cm) Above Canopy
Thermal Management
Passive
Dimming
0-10V
Weight

17.64lbs / 8.0kg

13.23lbs / 6.0kg

12.57lbs / 5.7kg

11.02lbs / 5.0kg

Warranty
>50,000 hours | 5-Year Warranty
LED Grow Light FAQs
1. What Payment do you accept?
We accept PayPal and credit cards. For bulk orders, we use bank transfers. Contact us if you are a commerical grower.
2. How Can I Use My Discount Code While Paying via Credit Card?
Add the item(s) to cart first, Input the code then apply. Click "Debit or Credit Card" Button  to start credit card payment. 
3. How much is the shipping cost?
We provide Continental US local delivery free of charge and No tax.
4. How long does it take to arrive?
For Continental US local delivery, it takes around 3-7 days, door-to-door service free of charge.
For international shipment, it depends on the shipping company you choose, usually, if it goes by sea, will take around 30 days. 
5. Do I have to pay import tax?
No need, we take care of that for you for Continental US.
6. Are your LEDs full-spectrum?
Yes, all of our lights are full spectrum.
7. Do the light comes with a lighting controller?
No, the controller needs to be purchased separately. You may contact order the lighting controller on our site directly.
8. Can your lights be daisy-chained?
Yes, you can connect up to 100 pcs LEDs using a lighting controller for larger growth.
9. Can you send me a detailed specification of your lights?
Yes, we would like to, please email us at sales@medicgrow.com We will reply in 24 hours.
10.  Do you
 

have any certifications for your lights? Can you send me the certification test report?

Yes, our lights are UL certified. Sorry, we can't share our certification report with you due to the technical secret inside.
11.  Can I have my LOGO printed on the body of the light/package?
Yes, but there is a MOQ request, please contact us at sales@medicgrow.com 
12. Can you make the light 1000 watt?
Yes, our product Ez-8  is a 1000W LED grow light. 
13. Can you offer me the best price?
The price online is the best price we can offer. You are welcomed to join our referral program for a 5% discount if your friend/family buys from Medic Grow. 


Medic Grow Fold 8 LED Grow Light for Indoor Plants
Providing 4 x 4 ft for both vegetative and flower, our Fold 8 LED grow light for indoor plants supports all stages of plants' growing lifecycle, whether used in a tent for personal growers or chained together with up to 100 pcs fixtures in a large commercial operation.

This indoor plants grow light has the popular design of 8 lighting bars focused on distributing more light as even as possible across the plant canopy. Plus, this LED grow light offers V1 fully programmable spectrum to adapt to each phase of the plant cycle. High efficacy of 2.7 µmol/j and up to 720 wattage power consumption contribute to high efficiency growing operation.

The PPFD for this light is also quite impressive, 1208 µmol/s at 12" distance and 930 µmol/s at 24". That's enough to boost your plants' yield according to a 20-40 mole of light per day requirement. Besides that, it is dimmable from 100% to 40% so you may easily adjust the intensity of the light for the veg and flowering phases.

Our latest LED grow lights for indoor plants suit many kinds of growing operations. If you're looking for full-spectrum LED lights to use indoors or for commercial growing, this is one of the most cost-effective and efficient products on the market.
Features:
4X4 Coverage

Full Spectrum - from seed to harvest.

High PPF - 1944μmol/s

Daisy Chainable - up to 75 lights

Dimmable - OFF- 40%-60%-80%-100%

180°Foldable Easy Installation - plug & play

True 720w Power Consumption
Medic grow
Amazing I love it it's definitely changed the way everything grows definitely would recommend it to anybody who's doing indoor growing
Absolutely love it !!!
Amazing light love it will be getting another, can't wait my plants have gotten huge and started flowering already can't wait to see the results.
bang for the buck
Perfect, could not ask for any better!!!
Best lights on the market
Loved the 1st mini sun 2 I bought so much that I bought another one. The quality of medic grow lights are just amazing, love everything about them. I own several fold 8s and smart 8s too and they will always be my go to. 2 years of daily operation with my fold 8s and they're still going strong with no issues whatsoever and I'm sure the mini suns will be the same. Every single light is built with solid construction and doesn't feel cheap, thank you medic grow for everything
Mini sun-2 320watt
Plants are shooting up works great I am having a little trouble with the heat from it