Medic Grow Smart-8 Full Spectrum LED Grow Light - 760w, High PPFD, Tunable Spectrum,Built-in Timer, Sunrise / Sunset, Onboard Dimming, AC 110-277V
Medic Grow Smart-8 Full Spectrum LED Grow Light - 760w, High PPFD, Tunable Spectrum,Built-in Timer, Sunrise / Sunset, Onboard Dimming, AC 110-277V
15-Day Return & Replacement
Description
Smart-8 Medic Grow Full Spectrum 760W LED Grow Lights for Indoor Plants
Be smart about your choice! Meet the foldable Smart 8 that is designed specifically for high PPFD cultivation practices in growing.

Smart 8 760 watt is built using high quality Sosen drivers and top bin LEDs from Osram generating a full-spectrum light source ideal for veg and flowering cycles. It covers each phase of growth from vegetative to flowering and casts an area up to 5x5 in flower. Producing outstanding PPF of 2136 μmol/s and a photon efficacy of 2.8 μmol/J, it can also deliver the entire spectrum of light evenly to your plants, giving them exactly what they want to grow big and fast.

The onboard easy-to-read LCD display allows you quickly and easily to check your timing settings, power, dimming, spectrum, PPF and more. There are two built-in knobs above the screen. The right one allows you to easily dim the light from 100% down to 80%, 60% and 40% intensity without the need for any external controllers, while the other is to schedule time for your plants at 6/12/14/16/18 hours. The Bloom button sits between the two knobs, giving you the convenience of switching the spectrum from vegetative (V1) to flowering (F1).

For commercial growers, the Smart 8 can be externally daisy chained with a medic grow lighting controller featuring light timing, dimming (1% increments), temperature control for up to 75 fixtures. Each light has a general life expectancy of 50,000 hrs and a 5-year long warranty period, thus, you will get full assurance from us about the durability of the lights.

Features and Benefits:

Outstanding efficiency;
Full-cycle growing spectrum;;
760Watts, 2136 μmol/s PPF & 2.8 μmol/J @277 AC;
Enhanced 660nm red encourages blooming and fruit;
Even PAR Distribution that Covers 4' x 4' & 5' x 5' grow tents;
Spectrum Switchable for Veg. & Flower;
built-in timer, support sunrise & sunset;
Instant Current on LCD display;
Onboard dimming function;
Fanless design for heat dissipation;
Low energy & no heat output;

RJ Signal Cable 

Daisy Chainable;
Plug and play.
Default voltage of 110-277V, and 347-480V is customizable
| | |
| --- | --- |
| | |
| | |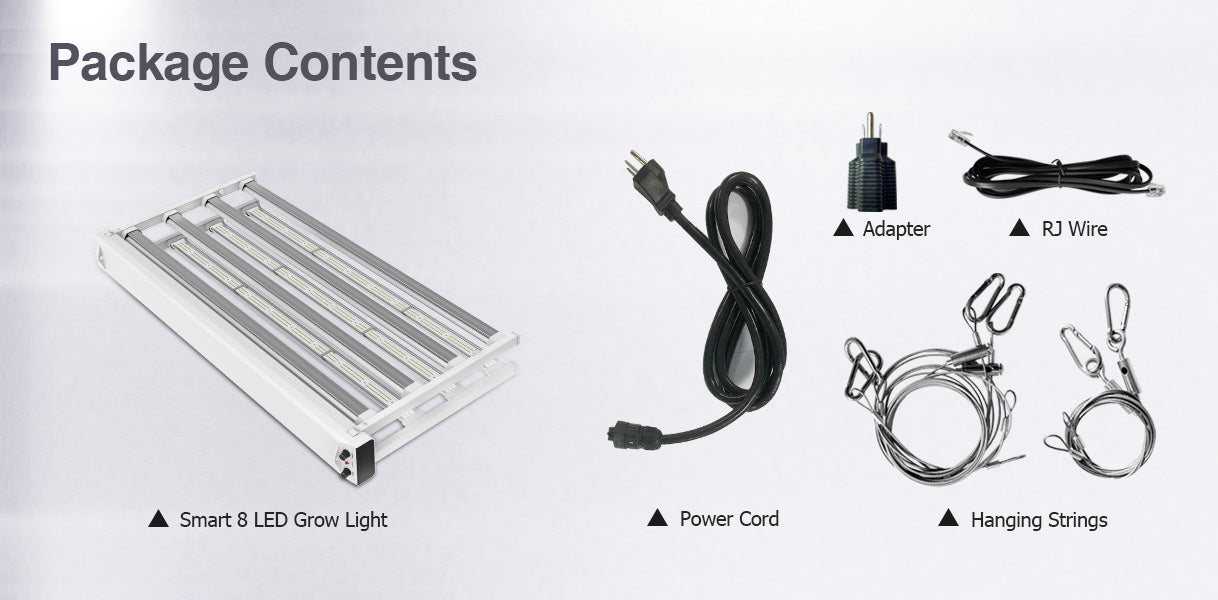 The detail PAR and PAR review for Smart 8 is from Dr. MJ COCO
 Medic Grow Smart 8 LED Grow Light Test & Review from Migro



Specifications
Model
Smart-8
Spectrum
V1 & F1 Full Spectrum
PPF(light output)

2136

 

μmol/s
Wattage
760 Watt
Efficacy
2.8 μmol/J @277 AC
Coverage
4x4 Feet; 5x5 Feet;
Fixture & Dimensions
47.2"L x 45.6 W
Driver
Designed by us and manufactured by Sosen
Power Cord
6ft long
AC Input Voltage

Default: 110-277V AC, 50/60Hz

Customizable: 347-480V AC,50/60Hz

Max Operating Temperature
95°F / 35°C
Mounting Height
≥ 6" (15.2cm) Above Canopy
Thermal Management
Passive
Dimming
0-10V
Weight
30.86lbs/14kg
Warranty
5-Year Warranty
Tips for product: We suggest a weekly adjustment of the Smart-8 timer to "OFF" for maximum accuracy.
LED Grow Light FAQs
1. What Payment do you accept?
We accept Credit Card, PayPal and bank transfers. For lights less than 10 pcs, we accept Credit Card, PayPal and for bulk orders over 10 lights, we would prefer the bank transfers. Contact us if you are a commercial grower.
2. I Can Not Use My Discount Code While Paying via Credit Card?
Add the item(s) to cart first, Input the code then apply. Click "Debit or Credit Card" Button  to start credit card payment. 
3. How much is the shipping cost and tax?
We provide Continental US local delivery free of charge and No tax.
4. How long does it take to arrive?
For Continental US local delivery, it takes around 3-7 days, door-to-door service, free of charge.
For international shipment, it depends on the shipping company you choose, usually, if it goes by sea, will take around 30 days. 
5. Can I return my light if it is faulty?
Yes, you can, we offer 5-year warranty. If your light is faulty under this period, please contact us by sales@medicgrow.com
6. Are your LEDs full-spectrum?
Yes, all of our lights are full spectrum.
7.
 

How to install/hang the light?

Please check the installation video we made: 


https://www.youtube.com/watch?v=jsGkxboI8LM&t=6s
8. Do the light comes with a lighting controller?

For Fold-8, Fold-6, Spectrum Y and Spectrum Y Wireless, and Slim Power 2 the controller needs to be purchased separately. You may contact us to order the lighting controller directly.
For MINI SUN 2 Series, Spectrum X and Smart 8, they have builit in the timmer.
Note: While using the timer of Smart 8, we suggest turning the timer to "OFF" and turning it back to the preset time weekly to clear the micro time delay.
9. Can your lights be daisy-chained?
Yes, you can connect up to 75 pcs LEDs using a lighting controller for larger growth.
10. Can you send me a detailed specification of your lights?
Yes, we would like to, please email us at sales@medicgrow.com We will reply in 24 hours.
11.  Do you have any certifications for your lights? 

Yes, our lights are UL certified. 
12.  Can I have my LOGO printed on the body of the light/package?
Yes, but there is a MOQ request, please contact us at sales@medicgrow.com 
13. Can you make the light 1000 watt?
Yes, our product Ez-8  is a 1000W LED grow light. 
14. Can you offer me the best price?
The price online is the best price we can offer. You are welcome to join our referral program for a 5% discount if your friend/family buys from Medic Grow. 
15. Can you tell me the light distance and light intensity for all: 1)  seedling stage, 2) veg stage and 3) flowering stage?
It really depends on which species that you are planning to plant. Each of your plant's phases of growth would have different spectrum and light intensity needs. Generally speaking, we recommend an 18w fluorescent lamp hang around 6" for the seedling stage, our light at 30" for veg, and at 12" for the flowering stage. You can adjust the height of the light or by using the dimmer so that you can tune the photon intensity to fit in various growth stages..






Medic Grow Fold 8 LED Grow Light for Indoor Plants
Providing 4 x 4 ft for both vegetative and flower, our Fold 8 LED grow light for indoor plants supports all stages of plants' growing lifecycle, whether used in a tent for personal growers or chained together with up to 100 pcs fixtures in a large commercial operation.

This indoor plants grow light has the popular design of 8 lighting bars focused on distributing more light as even as possible across the plant canopy. Plus, this LED grow light offers V1 fully programmable spectrum to adapt to each phase of the plant cycle. High efficacy of 2.7 µmol/j and up to 720 wattage power consumption contribute to high efficiency growing operation.

The PPFD for this light is also quite impressive, 1208 µmol/s at 12" distance and 930 µmol/s at 24". That's enough to boost your plants' yield according to a 20-40 mole of light per day requirement. Besides that, it is dimmable from 100% to 40% so you may easily adjust the intensity of the light for the veg and flowering phases.

Our latest LED grow lights for indoor plants suit many kinds of growing operations. If you're looking for full-spectrum LED lights to use indoors or for commercial growing, this is one of the most cost-effective and efficient products on the market.
Features:
4X4 Coverage

Full Spectrum - from seed to harvest.

High PPF - 1944μmol/s

Daisy Chainable - up to 75 lights

Dimmable - OFF- 40%-60%-80%-100%

180°Foldable Easy Installation - plug & play

True 720w Power Consumption
Best deal out there. Love this thing.
Looks sharp. Got the smart 8. Should have bought two. Was $458.10 delivered to my house, after sale and promo code.
Cons
No memory for the timer. Slightly mushy knob out of two. Not bad really. Might go away after some use. I'm picky. I have old stereos. It'll work.
Pros
price, looks, dimensions, low profile, dimmer, 30 minutes sunrise sunsets, lcd display, bright as heck. Have it set to 60%.
Similar lights can be found with either identical or similar dimensions, led counts, wattages, etc. I found some branded 'Samphon' with the same design, functions and display. The prices were similar, but no Halloween sale prices like medic grow had. There was also some lights, again basically the same designs, just slightly different specs or some the same, that were branded as 'ECOFARM' seemingly marketed to Canada . This brand had a blue lcd display instead if green, same style though, but way more expensive.
Love this light. Thanks medic grow. Waiting for another sale.
Excellent product - durable high quality product
This was my first larger light that i purchased. Love the programming flexibility on board, the light output is amazing. I am a custom vegetable grower, and everything has responded super well to this light, amazing product. Highly recommend.
.30 cents a µmol at this quality is insane!
I love this light. It is probably the best light I own when it comes to build quality. I have other consumer brands like ac infinity and Mars hydro for the most part and Medic Grow beats them will how well it's made by quite a bit, especially Mars hydro, I do wish it was more modular like them but we'll see how that is handled when I cross that bridge! I paid about .30 cents a µmol, which is INSANE!! Not 100% how the plants enjoy the spectrum compared to the others brands but they seem to really enjoy it so far. Also this on screen display NEEDS to be standard, I can't stress how much I love this thing tells me the exact watts, amps, predicted µmol output and a little more. 9/10 light only complaint is the lm301h lights are always out of stock, so I settled for this, but was pleasantly surprised.
Killer light
I'm going to tell you if you're thinking about getting a is inew led light then this is the light I've been getting great results killer Buds 😁💪
Great coverage! Great results!
I have been getting great results running the Medicgrow Smart 8 at 40% burning 281watts for 790ppfd through mid-veg to mid-flower right up to the edges in a 4x4 tent. Very happy with that wattage and coverage. As the plant matures, I pop the power to 60% burning 422watts for 1195 ppfd for late mid-to-late flower without adding CO2.
Have never had to boost it to 80% as I don't add CO2, but it is really cost efficient with a great ppfd spread across the whole canopy. Never had bud-burn at 60% even when the light is close to the funky florescence. So, while I am not maxing the light out, I get great coverage and efficient use of electricity. I love this light. Control and timer are set and forget for veg and, then set for bloom.
At some point will buy another and expand to an 8'x4' or a 10'x5'
Keep up the great work Medicgrow!