Medic Grow Smart 8 Full Spectrum LED Grow Light - 760w, High PPFD, Tunable Spectrum,Built-in Timer, Sunrise / Sunset, Onboard Dimming, AC100-277V
$589.00
$629.00
saving
$40.00
Medic Grow Smart 8 Full Spectrum LED Grow Light - 760w, High PPFD, Tunable Spectrum,Built-in Timer, Sunrise / Sunset, Onboard Dimming, AC100-277V
$589.00
$629.00
saving
$40.00
Continental US Order: Free Shipping, No Tax, 3-7 Days FedEX Delivery from US Warehouse
15-Day Return & Replacement
Description
Smart -8 Medic Grow Full Spectrum 760W LED Grow Lights for Indoor Plants
Be smart about your choice! Meet the foldable Smart 8 that is designed specifically for high PPFD cultivation practices in growing.

Smart 8 760 watt is built using high quality Sosen drivers and top bin LEDs from Osram generating a full-spectrum light source ideal for veg and flowering cycles. It covers each phase of growth from vegetative to flowering and casts an area up to 5x5 in flower. Producing outstanding PPF of 2136 μmol/s and a photon efficacy of 2.8 μmol/J, it can also deliver the entire spectrum of light evenly to your plants, giving them exactly what they want to grow big and fast.

The onboard easy-to-read LCD display allows you quickly and easily to check your timing settings, power, dimming, spectrum, PPF and more. There are two built-in knobs above the screen. The right one allows you to easily dim the light from 100% down to 80%, 60% and 40% intensity without the need for any external controllers, while the other is to schedule time for your plants at 6/12/14/16/18 hours. The Bloom button sits between the two knobs, giving you the convenience of switching the spectrum from vegetative (V1) to flowering (F1).

For commercial growers, the Smart 8 can be externally daisy chained with a medic grow lighting controller featuring light timing, dimming (1% increments), temperature control for up to 75 fixtures. Each light has a general life expectancy of 50,000 hrs and a 3-year long warranty period, thus, you will get full assurance from us about the durability of the lights.

Features and Benefits:

Outstanding efficiency;
Full-cycle growing spectrum;;
7600 Watts, 2136 μmol/s PPF & 2.8 μmol/J @277 AC;
Enhanced 660nm red encourages blooming and fruit;
Even PAR Distribution that Covers 4' x 4' & 5' x 5' grow tents;
Spectrum Switchable for Veg. & Flower;
built-in timer, support sunrise & sunset;
Instant Current on LCD display;
Onboard dimming function;
Fanless design for heat dissipation;
Low energy & no heat output;
Daisy chain function;
Plug and play.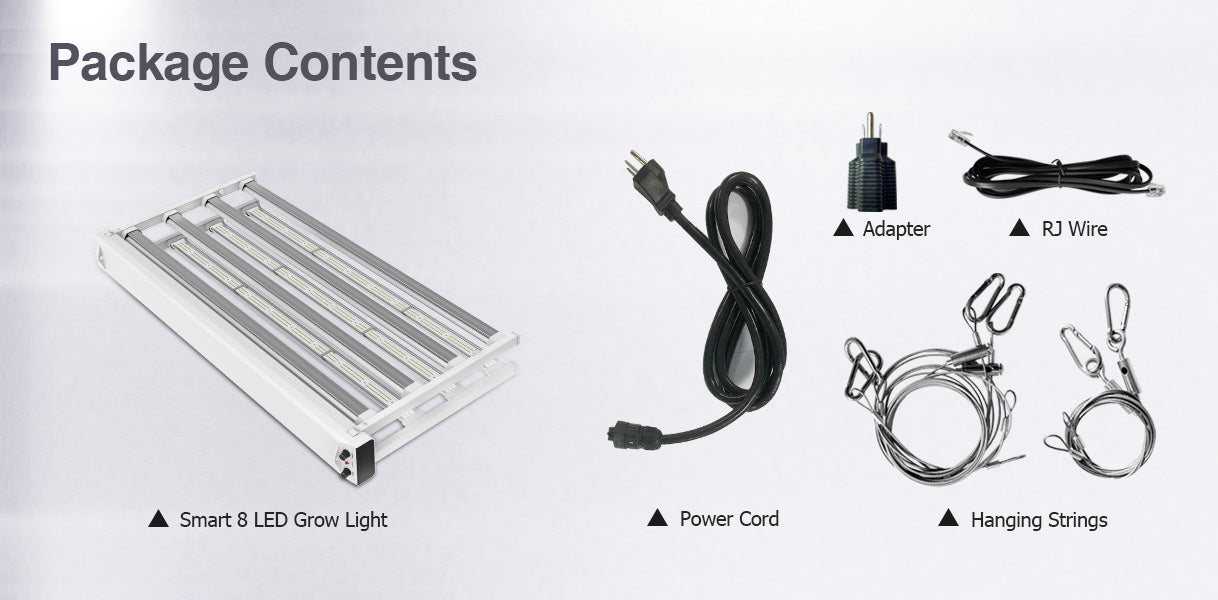 Test&Review
Medic Grow Smart 8 LED Grow Light Test & Review from Migro
Specifications
Model
Smart-8
Spectrum
V1 & F1 Full Spectrum
PPF(light output)

2136

 

μmol/s
Wattage
760 Watt
Efficacy
2.8 μmol/J @277 AC
Coverage
4x4 Feet; 5x5 Feet;
Fixture & Dimensions
47.2"L x 45.6 W
Driver
Designed by us and manufactured by Sosen
Power Cord
6ft long
AC Input Voltage 
120-277V AC,347-480V AC,50/60Hz
Max Operating Temperature
95°F / 35°C
Mounting Height
≥ 6" (15.2cm) Above Canopy
Thermal Management
Passive
Dimming
0-10V
Weight
30.86lbs/14kg
Warranty
5-Year Warranty
Medic Grow Fold 8 LED Grow Light for Indoor Plants
Providing 4 x 4 ft for both vegetative and flower, our Fold 8 LED grow light for indoor plants supports all stages of plants' growing lifecycle, whether used in a tent for personal growers or chained together with up to 100 pcs fixtures in a large commercial operation.

This indoor plants grow light has the popular design of 8 lighting bars focused on distributing more light as even as possible across the plant canopy. Plus, this LED grow light offers V1 fully programmable spectrum to adapt to each phase of the plant cycle. High efficacy of 2.7 µmol/j and up to 720 wattage power consumption contribute to high efficiency growing operation.

The PPFD for this light is also quite impressive, 1208 µmol/s at 12" distance and 930 µmol/s at 24". That's enough to boost your plants' yield according to a 20-40 mole of light per day requirement. Besides that, it is dimmable from 100% to 40% so you may easily adjust the intensity of the light for the veg and flowering phases.

Our latest LED grow lights for indoor plants suit many kinds of growing operations. If you're looking for full-spectrum LED lights to use indoors or for commercial growing, this is one of the most cost-effective and efficient products on the market.
Features:
4X4 Coverage

Full Spectrum - from seed to harvest.

High PPF - 1944μmol/s

Daisy Chainable - up to 75 lights

Dimmable - OFF- 40%-60%-80%-100%

180°Foldable Easy Installation - plug & play

True 720w Power Consumption
Medic Grow Smart 8 Full Spectrum LED Grow Light - 760w, High PPFD, Tunable Spectrum,AC100-277V and More
Amazing light
This light has great quality and such a reasonable price. Can even save more with code "Jolly". Currently have in a 4x4 and fits perfect. Can't wait to upgrade my space to put this beast to its full potential
So far so good
I have used both high end lights and Amazon lights and until I got my smart 8 I hadn't really experienced what a true full spectrum is I love it and I haven't even bloomed yet I well return with another follow up
Like it
So far I really like the features of the light. It is so bright. Seems like a good build.
With that being said is there any way to dim/ turn off the lcd display?
Smart 8
Great light, especially for the price. It has everything you need from veg through bloom. Very powerful.