Full Spectrum LED Grow Light: All You Need To Know
It has always been a difficult job for growers to find the right LED grow light for their plants.
With so many LED grow light options on the market, full spectrum LED grow light has become one of the most popular grow light types for indoor plants.
What do you know about full spectrum led lights?
In our previous blog "Grow Light vs Regular Light", we have stated that "spectrum" is an important factor for you to differentiate normal bulbs from grow lights.
So, before we get to know about full spectrum led lights, we need to figure out what spectrum is.
What is spectrum?
As we all know, green plants need light to perform photosynthesis so that they can convert light, oxygen and water into carbohydrates they need.
Spectrum refers to the electromagnetic wavelength of light generated by the light source to promote plant growth.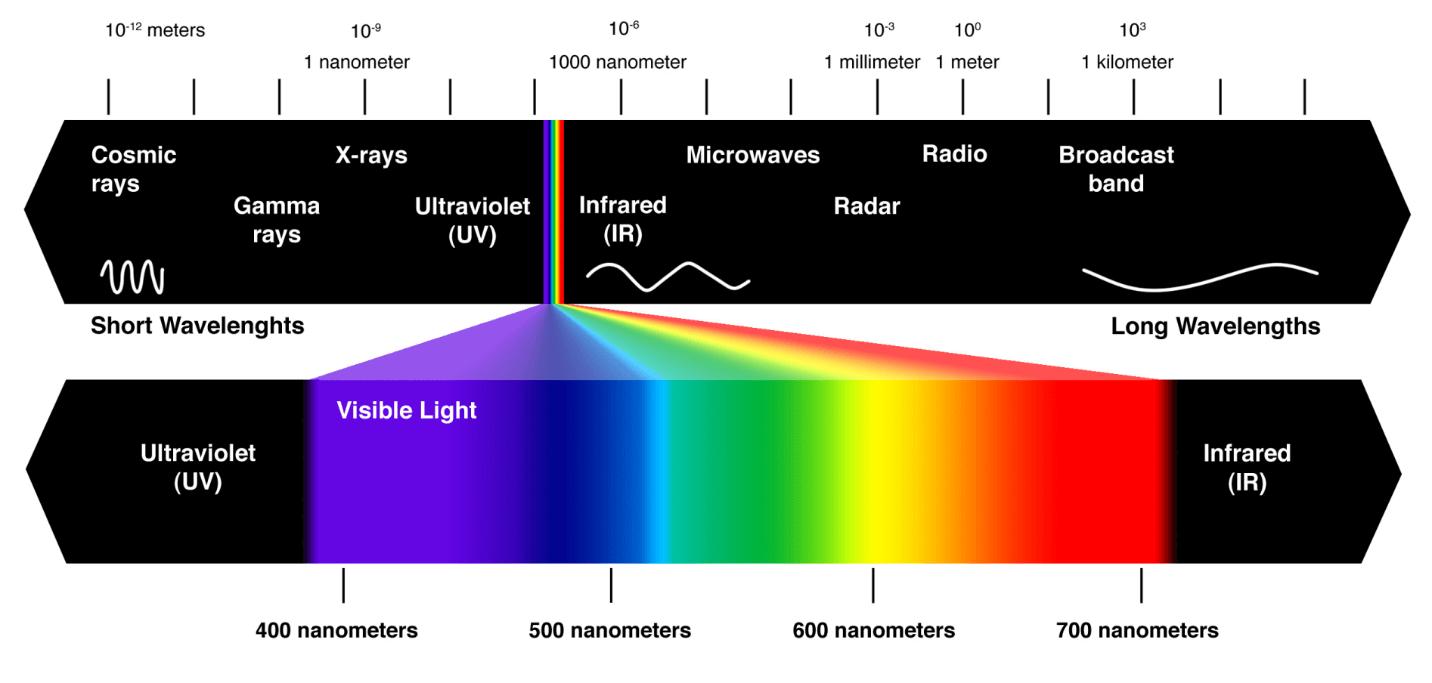 Image Source: Oncelighting
So here comes the question:
What colors of the light spectrum are most important for plant growth?
Actually, NASA had conducted an experiment years ago on how LED Lights can be used in plant growth.
"One of the objectives of the study was to understand the effects of green light on plant growth," Mickens said. For the test, he compared the growth responses of the lettuce and radishes grown under a treatment of red and blue LEDs, and a treatment of broad spectrum white fluorescent lamps with green light present. "I discovered that there were considerable physiological differences between the two treatments," Mickens said.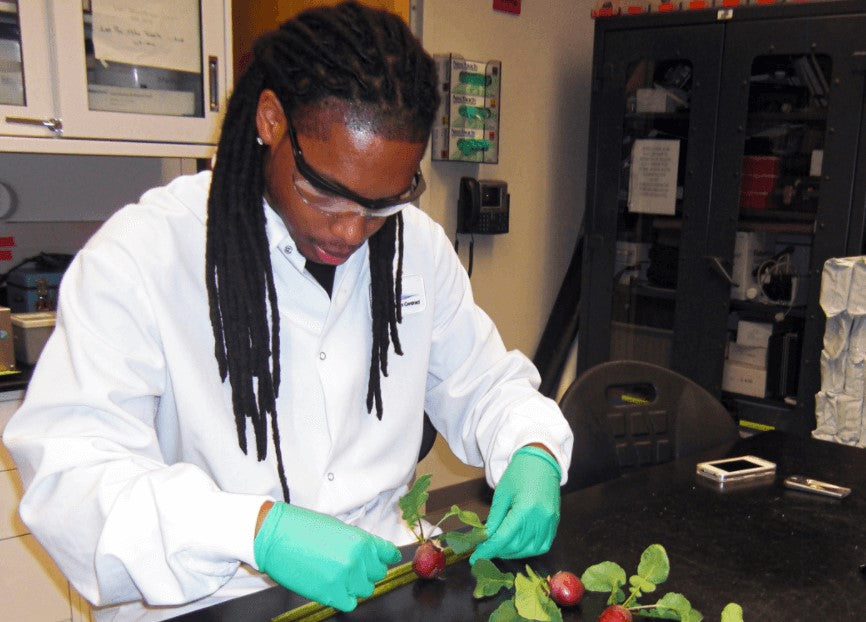 As for what colors of the light spectrum are most important for plant growth, there is no exact answer here. Because plants vary widely in how much light they need to thrive, and different colors on the spectrum can bring different effects to the plant.
Still, we need to make it clear that light spectrum is not the only factor that affects plant growth. The intensity and duration of the grow light also mean a lot for indoor planting.
We will discuss it in our next blog posts later.
What is the best light spectrum for plant growth?
Speaking of the best light spectrum for plant growth, there is no such thing as that.
Why?
As we explained earlier, plants vary widely in how much light they need to thrive. This means different plants need different light spectrum in different growing processes.
For example, the blue light, also known as cool light, encourages vegetative growth and intense photosynthesis. The red light, however, encourages stem growth, flowering and fruit production.
In a word, the ideal light is different for each stage of plant growth and the best light spectrum depends on the type of plant.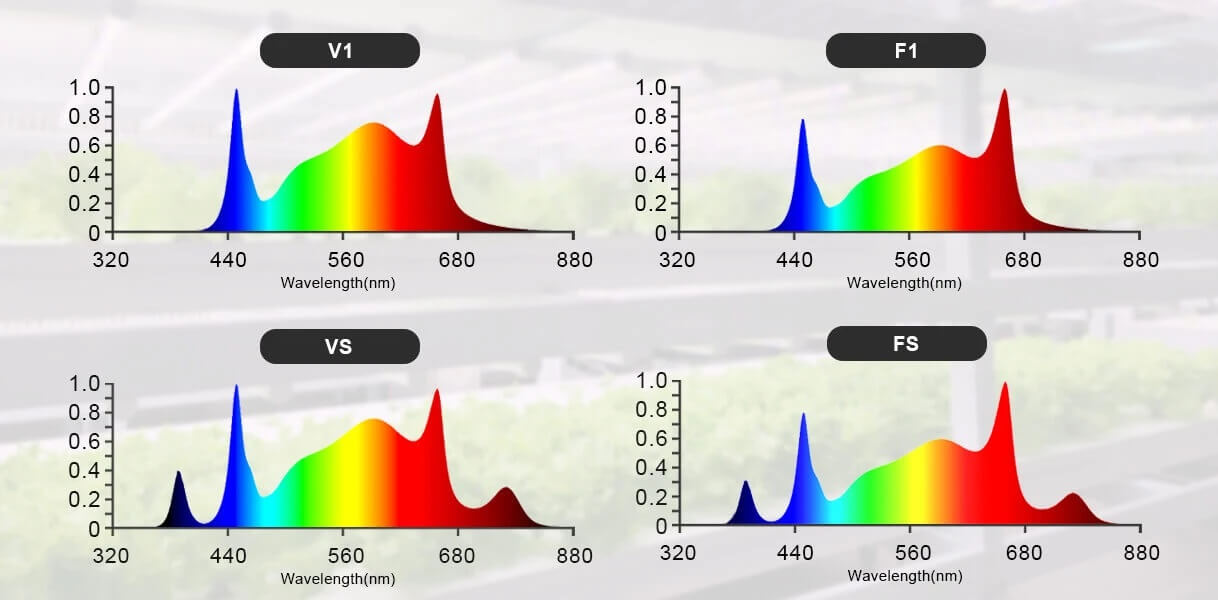 So, to get the highest yielding, there is one thing that commercial growers should keep in mind: plants do best with light of all wavelengths, but they don't need equal amounts of each.
That's why full spectrum light is so popular these days.
The complete spectral output is ideal for indoor plants at all growth stages with everything they desired in the natural sunlight.
What does full spectrum LED light mean?
So, here comes the topic: what is a full-spectrum LED light?
Full-spectrum LED grow light refers to lights that feature all the needed colors (for example, blue and red as mentioned before) that indoor plants need in their growing process.
What's more, some full spectrum artificial lights also come with IR and UV support, which can definitely help a lot in the blooming and flowering stages of indoor plants.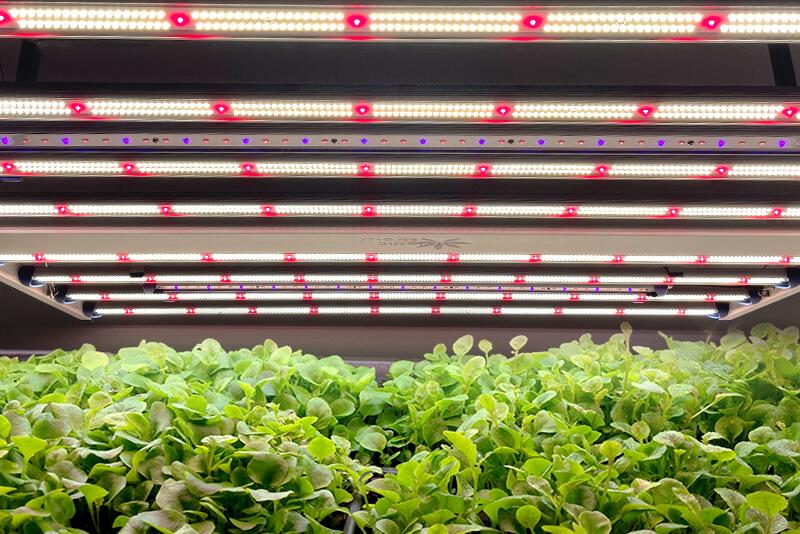 "Full spectrum wavelength (6-bands) is suitable for all stages of plant growth. Good for all kinds of plants, such as orchid, roses, peppers, tomatoes, basil, lettuce, herbs and any other vegetables from seeding to harvest. Altogether increasing the yield by 20%-50% which should contain 10-20% more total soluble sugar and vitamin C as well as 20-30% more crude protein."  
                                                               ——advertisement of a lighting company
The truth is that basic LED grow lights feature only certain color frequencies, while full-spectrum LED grow lights can provide the light needed in every stage of the growing process.
Sounds great, right?
You might have seen some doubts on the internet:can full spectrum lights grow plants? 
This won't be a question for you anymore.
How to choose the best full spectrum LED grow light?
Now that you have learned benefits of full-spectrum LED lights, you might want to get one for your garden. But do you know how to choose the right full spectrum grow light to boost your indoor career?
As we explained earlier, not all LEDS are built to be full-spectrum.  Some LED lighting companies claimed their lights to be full-spectrum just to promote their LED fixtures.
When buying a full-spectrum LED grow light, you need to be really careful.  
"When a company decides to call their products a Full Spectrum Grow Light, they usually mean that their product outputs a broad, continuous and significant light across most (if not all) of the PAR range. That's it. In fact, remember this: "Full Spectrum" as a term, is only as reliable as the Grow Light manufacturer. It is by no means a certification standard; whether legal, industrial or otherwise."​  ——Epic Gardening
We have discussed the 8 factors you should consider when buying a grow light in our previous blog post how to pick the best led grow light, you can take it as a reference when buying a full spectrum light for plants. The key point is that you know what your plants need before making a decision.
Get an affordable full spectrum grow light with the ideal light spectrum for your plants. This is good.
Get an affordable full spectrum grow light with not only the ideal light spectrum for plants you are planting currently but also with optional light spectrums for future needs? This is much better.
There are also full spectrum lights with dimming function, spectrum tunable function, daisy chain, etc..
Get to know your plants and this won't be a difficult decision for you.
You can also check our recommendation here and get to know more about full spectrum LED grow lights.
Full Spectrum LED Grow Light For Indoor Planting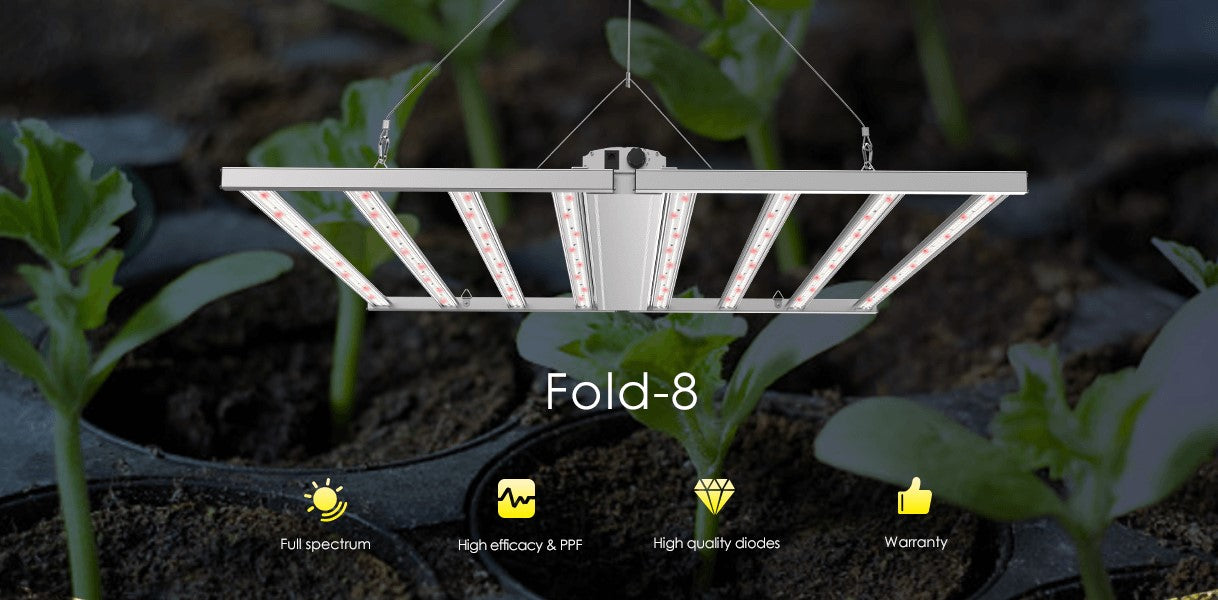 Fold 8 LED grow light supports all stages of plants' growing lifecycle, whether used in a tent for personal growers or chained together with up to 100 pcs fixtures in a large commercial operation. This indoor plants grow light has the popular design of 8 lighting bars focused on distributing more light as even as possible across the plant canopy. Plus, this LED grow light offers V1 fully programmable spectrum to adapt to each phase of the plant cycle. Besides that, it is dimmable from 100% to 40% so you may easily adjust the intensity of the light for the veg and flowering phases.
Features
180° Foldable.
Full spectrum with enhanced red for full cycle grows.
Efficacy is up to 2.7 pmol/J.
Easy to install,just plug and play.
Easy Dimming.
Using Osram LED Chip.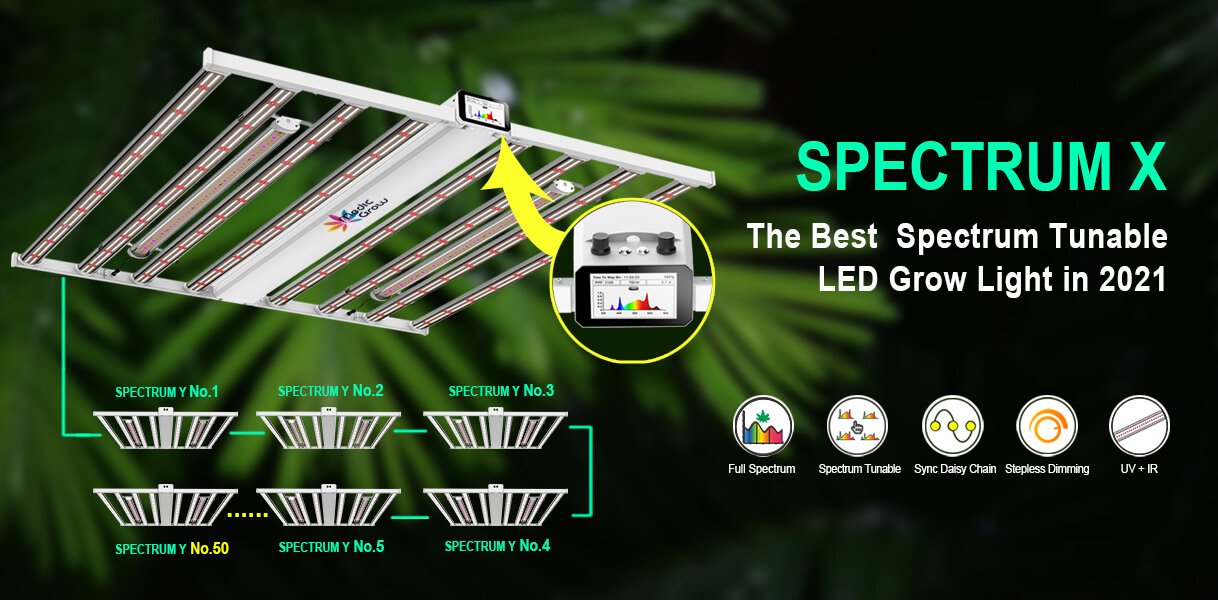 Spectrum X is one of the most advanced multi-bar LED grow light for indoor plants. It is the first grow light that offers the possibility to pretend sunrise and sunset without a controller. With 2 easy detachable UV/IR LEDs panels, you can expect to have 4 tunable spectrum options: V1, V1+UV&IR, F1 and F1+UV&IR. What's more, the commercial growers can sync 50 pieces of spectrum Y lights with one Spectrum X and control them simultaneously.
Features
8-bar configuration allows for application in indoor rooms,on vertical racks,over benches, and even in grow tents.
High efficacy (2.8 μmol/J). PPF up to 2184 μmol/s.
The integrated LCD display showing all the parameters that matter to your growth.
Spectrum Tunable. Flexible to change spectrum from vegetative to bloom stage.
Veg & Bloom Button (Red Button).
One Spectrum X can control up to 50pcs of Spectrum Y lights.
Dimmable from 100% to 30%.
Easy Timing Settings.
Embedded dampers make installation much easier.
Two UV & IR bars.
Sosen Driver
Final Thoughts
With so many grow lights emerging on the market, full spectrum LED grow lights have been proved to be the best choice for not only beginners but also experts in indoor growing.
It makes things simple for indoor gardeners. Although there is no such thing as the perfect indoor grow light, full spectrum artificial light makes it possible for growers to get the best growing light for their plants.
Related Posts
Grow Light vs Regular Light: Can Any LED Light be Used as a Grow Light?
Grow Room VS Grow Tent:Which One Should You Choose
Is Light Necessary for Seed Germination?
Learn About Nutrient Lockout: How to Fix it
Learn About the Importance of Air Circulation for Indoor Plants